The Bomb the Tree and the Midwife
I recently read a couple of articles on CanveyIsland.org including 'Memories of Leigh Beck' (Nurse Morgan and the gale, the geese and the disintegrating outside lavatory), also Ian Newman's story on the bomb that fell in Marine Approach in 1940. Therefore I am inspired to tell you this delightful story, although it could have very easily ended in tragedy and with an irreplaceable loss to our community.
The Bomb, the Tree and the Midwife
The indomitable Nurse Morgan was a familiar sight, riding about the Island wearing her nurse's uniform and performing her duties as the local midwife when I was growing up. She always stopped to talk to me whenever we met and usually said "you are one of mine Charlie, I hope you are being a good boy". I never corrected her (I was born in London) because she could be easily forgiven for her mistake, for at our Leigh Road home she had delivered no less than two of my younger siblings and two of my cousins.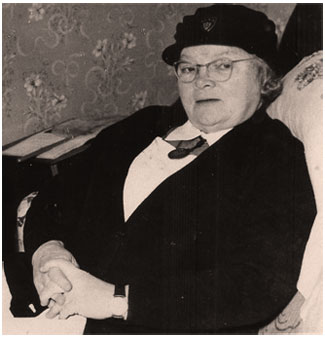 I have no memory of the bomb that fell in Marine Approach that day as I was too young at the time, but I knew the story well as it was often told and retold over the years by my Mum. Our house was on the right of Leigh Rd and Ian's home must have been on left of his street so our back gardens probably were very close, separated only by the dyke that ran at right angles behind our back fence. (Dave, maybe you can check this out one on one of those Google things). The Bomb must have been a big one and probably went deep into the ground and some of the damage it caused (a big crack in one of the brick walls) was still clearly visible when I last stayed with my Mother in the summer of 1988. I think that this damage was caused by underground shock waves as our house was not hit by falling debris or shrapnel.
In New Zealand we get many earthquakes, fortunately most of of them are small and harmless but I have learned from experience that the type of sub soil that you have on Canvey is a Pandora's Box i.e. wet clay when it comes to transmitting shocks. OOPS there I go, off topic again a bad habit I have developed in my senior years! Back to our heroine, Nurse Morgan was very close by when the bomb dropped and she was blown off her bike against a tree. As this Lady was built of very generous proportions, the tree was flattened and subsequently died; Nurse Morgan apparently survived this ordeal shaken but uninjured and in the following years always boasted that the tree may have been killed, she was indestructible!
Neither the forces of nature or the war could keep this remarkable lady from her duties, Nurse Morgan a modern day Bodecea and an indispensable asset to War time Canvey – May her Tribe increase!
Charlie