Passport Not Required
Canvey Mentioned in new book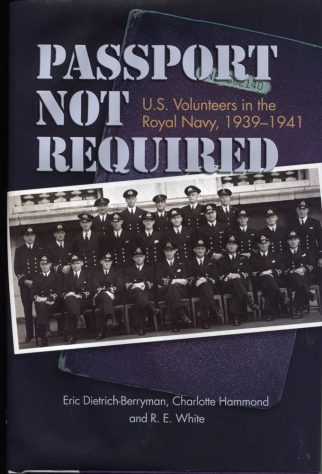 US Volunteers in the Royal Navy, 1939-1941 by Eric Dietrich-Berryman, Charlotte Hammond and R E White.
This book is about US Volunteers in the RN during WWII. The connection with Canvey Island is Oswald Deiter and the ship ML115 which was adopted by Canvey Island with the funds the Island raised during War Ship week in 1942.
I was first contact by 'Chalky' White (Ronald E White) about eight years ago when he was researching into US Volunteers. He told me about War Ship week and the fact we were presented with a plaque during an Exchange of Plaques ceremony in 1943. Oswald Deiter and the crew of ML115 were present for the ceremony and Luncheon in the Monico. It is due to 'Chalky' contacting me that eventually the plaque was found and now has a permanent home in the Bay Museum on Canvey. Unfortunately 'Chalky' did not live to see his book published, he died in May 2009. Chalky was himself a sailor in the Royal Navy retiring in 1962 when he joined the Sussex Police.
Although the book itself is about US Volunteers in the Royal Navy, Canvey Island is mentioned as 'one of the war's lighter moments'. From what I have read of the book so far Canvey Island is the only place mentioned to do with War Ship Week and the Plaques that were presented at that time. Also mentioned is Canvey Community Archive and the page I did about War Ship Week called 'The week Canvey pulled out all the stops'.