Despite terrible weather in the days before it turned out to be a lovely day but a little blowy on the seawall. Guests had come as far as Harlow for the event. Many hearts from the USA were with us too.
Janet Walden the Archive's Chair welcomed everyone. We started with the following readings one from a witness and others from families of the crews. These were read by three young Air Scouts Callum Young, Kian Groom and Nathan Leonard.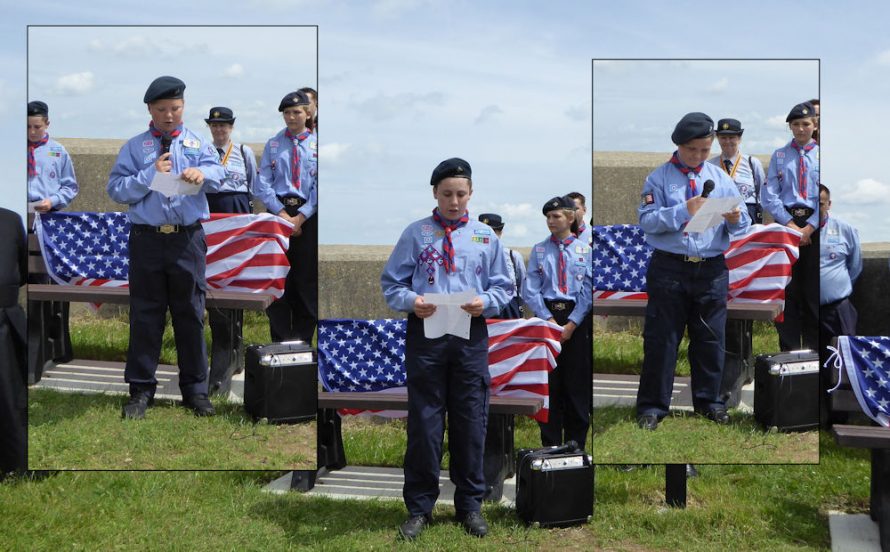 The first reading was from the memories of Stan Pierce who was a 9 year old school boy when he was eye witness to the event.
There were huge four-engined bombers all in neat formation, cruising in slowly, dozens of them. I know of them now as B17's. They were American, and so low I could see the blue and white stars underneath their wings. Then as I stood gazing, right above my head, one bomber fell on top of another. No explosive sound but a crunch and a screeching, tearing noise. I was stunned. A wing floated away. A lot of black smoke. One plane fell away, and bits fell off. I have no further memory of it, but the other plane had a more lasting effect. It tipped over, and the nose was looking at me.
The second was an excerpt from a poem written by Cecil Tognazzini's brother.
In 1944. the B17 on which my brother Cecil served,
collided with a sister plane, over England's Thames Estuary.
Lost in the waters of that inlet, his body was never recovered
My mother prayed a lot all the time,
but she prayed even more after he perished.
She had a vision that there would one day be a miracle,
A knock at the door!
When she answered, he would be there!
When his Purple Heart arrived, she refused to accept the awful truth!
It was difficult then, and is still for me.
Some nights, sleep fails me. I dream I see him and he is but
a collection of bones, large and small,
tossing back and forth in the arm of the sea.
In some uncanny way, I always know it is my brother.
The third reading was from an email received recently from the only member of either crew that is still with us, Richard Andrews.
Thank you so much for all you have done, through the years, to keep the
memory of these young men alive, it means a lot to me. Here are some thoughts for the June 19th event.
May I start by thanking the Air Scouts for participating in these historical
events. They, and their leaders, are to be commended for recognizing the young men who gave of their lives to maintain a free world. A long time ago, they left family and home to fight for what was right. Some gave their all that day; others returned home to live out their lives. For a few short months they flew together under circumstances that changed their lives forever. Many formed everlasting bonds of friendship. It is for all of them, with a grateful heart, that I want to thank the individuals and groups for remembering us, again today. You've provided a peaceful, yet vibrant, setting for the commemoration. Thank you all!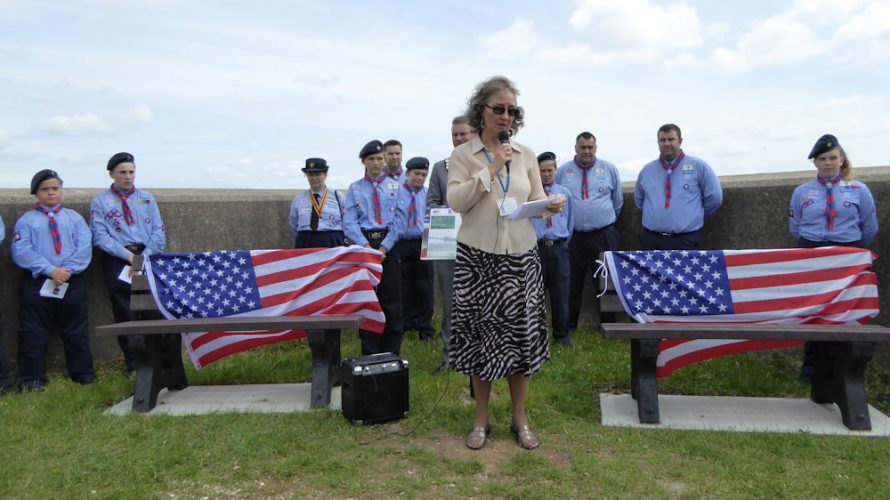 We had one last reading by Janet Walden from an email received by us last Friday evening from Tom Schulte, the nephew of Louie Schulte.
I never knew my Uncle Louie. What I know is what I've learned from Dick Andrews.  I'll never forget our first telephone conversation.  After exchanging hello's Dick began to sob and I waited for him to regain his composure. He told me, "Tom, I need to tell you something about that day.  We returned from a morning mission because of bad weather and Louie and I lay under the wing of the airplane waiting for it to be refueled for an afternoon run.  It was our last mission and I asked Louie to switch positions with me taking the tail gun and Louie taking the waist gun."  My heart sank at that very moment because I know what he was going to say next. I stopped him and said  "Mr. Andrews, you weren't responsible for Louie's death. Those are just the misfortunes of war. They was no way for you to know the outcome of that day." Yet still my heart aches to think that Dick carried that burden for 70 years." He told me that he and Louie were the best of friends and that they always hung out together. He told me that Louie had a beautiful singing voice and that his favorite song was "That Old Black Magic." And Dick told me that Louie would sing that song returning from a bombing mission and that when his crewmates heard him sing that song, they knew that they were out of harms way.
I've comforted myself believing that those boys made it to the coast and heard, "That Old Black Magic" one last time.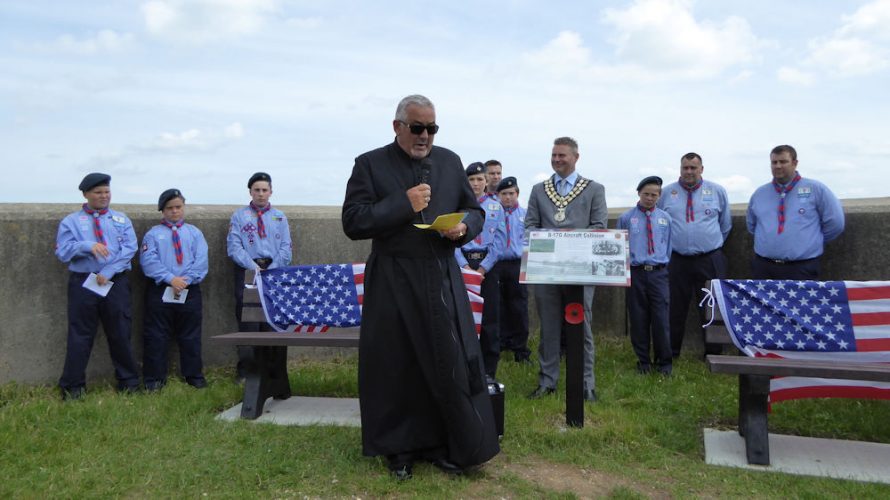 Father Peter Mallinson then held a short dedication service before blessing the benches.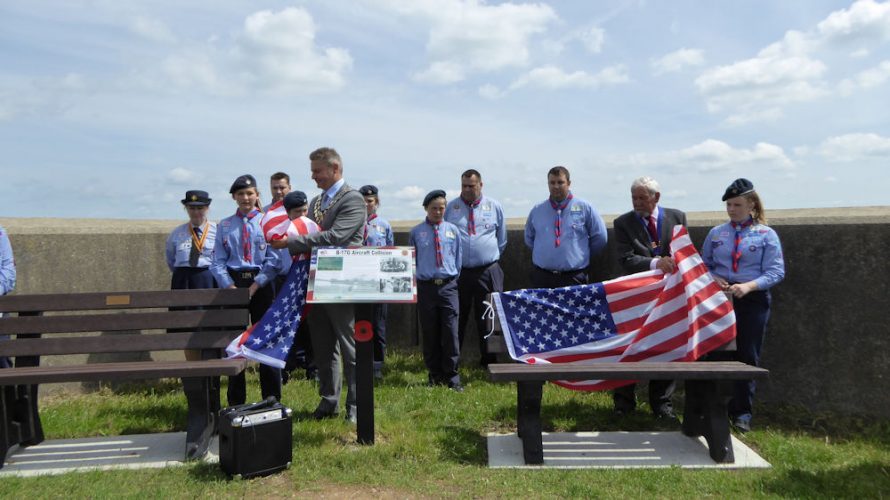 To the tune of "That Old Black Magic" Castle Point Mayor Steve Cole and Canvey Town Mayor Martin Tucker assisted by the Air Scouts unveiled the benches.
Janet Walden thanked everyone for coming and all who helped raise the money for the benches.
Photos were then taken before we retired to the Island Yacht Club for refreshments.