Messages from the B17 Families
Delivered by Geoff Burke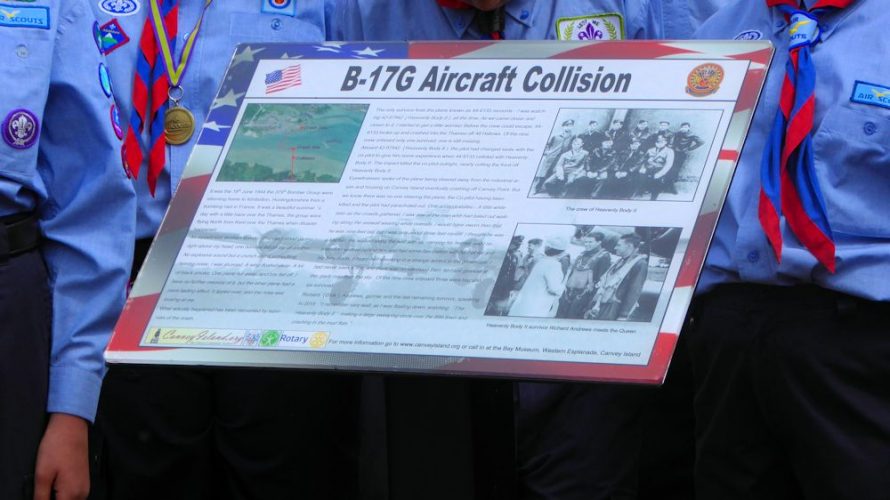 During the unveiling of the B17s information board yesterday Geoff Burke read out messages on behalf of the families of two of the crew members from the Allhallows plane and a personal message from the now lone survivor of Heavenly Body II, Richard Andrews.
Families of three of the American airmen remembered here today have followed the developments leading up to todays event:
Jeanne-Cronis Campbell, from California, whose late father Ted Chronopolis, was the sole survivor from the Allhallows B17 has sent you all the following message:
Thank you for your email and the invitation. Unfortunately, I will not be able to attend. However, I would be honored — as most certainly would my Dad and Mom — to have my Dad represented. As you can probably imagine, that crash had a tremendous impact on my Dad. When he returned to the United States, he personally visited the family of each of his crew members that perished that day, to express his sorrow. I am truly sorry that I will not be able to attend. I hope someday that I can travel to Convey Island, to see the site and to meet the wonderful people who live there and who continue to honor all of those who gave so much so that we could be free. 
Until then, I hold Canvey Island, it's inhabitants, the memorial, and each person — past and present in my heart.
With Gratitude, Jeanne Cronis Campbell, formerly known as Jeanne Chronopolis 
Noel Tognazzini, whose Uncle was also in the Allhallows B17 and whose body was never recovered, has requested that I convey the following message:
I would greatly appreciate it if you might express our family's deep and sincere appreciation to the Canvey Community, especially the Canvey Community Archive Committee, for honouring and keeping alive the memory of my Uncle Cecil, who remains entombed in the River Thames, his fellow airmen on those two planes, and all the men and women who risked and sacrificed their lives in support of freedom for Britain, the USA and all of the allied countries. 
Finally,
Richard 'Dick' Andrews, from New Jersey, who was a 19 year old B17 gunner, parachuted to safety from the Canvey Island B17, and was rescued here 71 years ago today. Now aged 90, and the last remaining survivor of collision on the 19th June 1944, he has sent this message, and with your permission I would like to read it on his behalf:
I'm very sorry that I can't be with you to take part in this special occasion. My thoughts will be with you. I want to thank all those who worked so diligently to make this presentation possible. It serves to honor those who lost their lives that day. I want to thank, as well, those members of the committee who have kept me in touch with their activities. To all of you, thank you, for a job well done!