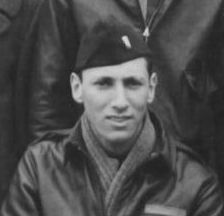 Fred Kauffman was the co-pilot of Heavenly Body II the B17 bombers that crashed off Canvey Point after the mid-air collision on the 19th June 1944.
This is a letter his brother, Milton, sent him dated the 18th June 1944. It was eventually returned to Milton following his brother's death. The date is very significant. Milton says 'Be careful – hope to be seeing you soon.'
Fred was the co-pilot but he was at the controls at the time their plane was accidentally hit by the other aircraft. Fred was, at first, thought to have steered the plane away from Canvey Island saving a lot of lives but he was already deceased. How the plane seemed to be in controlled flight no one knows but it is clear from the investigation at the time that no one was steering the plane.
Many thanks to Fred's nephew Steven Kaufman for allowing us to publish this little bit of history. We have only just made contact with Steven but hope he will be able to visit the Island in the not too distant future.