The Rotary Christmas Sleigh.
Birth of a Canvey Institution.
As Christmas rapidly approaches I was delighted to be contacted by Colin with information on how the Sleigh, which tours the Island, came into being. His article, which he has kindly given us permission to publish, is below. He has also promised us some images of the sleigh under construction. Fingers crossed he can find them. So watch this space!
The history of the Canvey Rotary Sleigh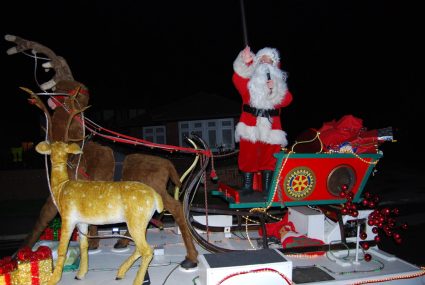 The Rotary sleigh is as synonymous with Canvey Island as the Dutch Cottage and the Labworth Cafe. If you live on Canvey you will know of it, have seen it every Christmas with its bright lights playing Christmas music travelling the streets or outside supermarkets at the weekend. But what is it? And how did it come into being? This is a history of how a small Rotary club built it, with the support and generosity of many local people.
My name is Colin Phillips. In 2003 I joined Canvey Rotary because I wanted to become involved in fund raising mainly for local good causes. But like anyone joining a long established organisation I was a bit bemused, and frankly a little frustrated by my lack of involvement in the club rituals and discussions.
Until one evening the subject of the sleigh came up. It appeared that the existing sleigh had reached the end of its usable life, and after some discussion it was agreed that it wasn't feasible to create a new one. This was a shame as I knew my own children had always looked forward to the arrival of the sleigh in our street. After the meeting I asked the then president John Galbally if I could attempt to build a new sleigh. He was naturally sceptical and probably thought I didn't fully understand the sheer logistics of such an enterprise. And he was right. When I really thought about it I realised that I had been a bit hasty and was about to show myself as naive and over ambitious.
So to save face I had to do something to get the project started. With no plan, no resources and certainly no budget or where to start.
The first thing I did was write a tongue in cheek piece for the Evening Echo about how Santa's sleigh had broken down and the elves needed to build a new one.
As often happens with communities like Canvey we soon started to get offers of help. First we were offered two flat- bed trailers which in fact consisted of the chassis of dismantled caravans. Then a call came with an offer no one could have envisioned which changed everything.
A fellow Rotarian in South Woodham Ferris had read the article and knew of an actual sleigh currently stored in a lock up garage in Woodham. The owner was selling the garage and was keen to remove it. President Galbally and I went to have a look and were astonished by what we saw. A genuine nineteenth century European sleigh. It was in a bit of a sorry state. Someone had started to work on it but clearly given up, so parts were missing, and all the iron fittings were in a couple of drums. But we saw the potential and quickly agreed with the owner to remove it for free and collected it the next day on John's truck.
The first question was where to take it to, and the only short term option was my garage.
So we had a sleigh and a skeletal flat- bed trailer but nowhere to build it.
This again was solved by the generosity of a Mr Saul, a local resident who owned the Movie Starr cinema and had a fully functional workshop at the rear of his premises. He gave me the key and said I could come and go anytime I wanted.
So the sleigh was moved to Mr Saul's workshop and the trailer went to the large garage of Rotarian Norman Brooks. Along with Rotarian Andy Thoupos, both skilled carpenters and engineers, they clad the trailer with marine ply. The result was outstanding. Next was to create an impression of snow on the ground. For this I approached a Mr Birch who owned a fibreglass boat building business, asking him if he would coat the trailer in a rough rippled white fibreglass skin, pointing out that it was for Rotary, for charity and I couldn't pay much. Shameless! In the event Mr Birch did the work free of charge. Once again the local community had stepped up.
Meanwhile I was working on the sleigh in Mr Saul's workshop, replacing parts, treating woodworm and painting it in its iconic red and green livery. Refitting the ironworks to the sleigh was next, finding out by trial and error which bits went where. Never having actually seen a real sleigh close up this was a bit of a challenge and when completed there were still a few strange looking components left over.
The next challenge was the reindeer. We had an impressive sleigh and a well made and finished trailer to put it on. How could we possibly fashion a two dimensional reindeer out of plywood, it just wouldn't do. Children's expectations were far high now than their parents. They had been brought up on Hollywood movies and visited theme parks. We had to find a solution.
Thinking about who uses things like life size reindeer the only places I had seen them was in the windows of the big London stores. So I started calling them asking if they had a redundant reindeer they could give us, again shameless!
This proved more difficult than I thought. While helpful, they couldn't actually provide me with a reindeer because all the shop window displays are either custom built or hired in.
Finally, one of the window display people I had left my number with called me back suggesting I speak with the Jim Henson Organisation based in Poole, Dorset. They make all the muppet characters and might be able to help.
I called them, and yes they could build such a thing but until a final design and specification was agreed could not give a price. So I sent them the dimensions of the sleigh and the flat bed and asked if, being Rudolph, the nose could light up.
When they quoted the price I was a bit shocked but, because they were the only option, I had to seek approval from the club members.
At the next club meeting I put the proposition to the members that we pay the £1250 the Henson Organisation wanted to do the work. Bearing in mind that Rotary never uses money collected to fund administrative costs the entire amount would have to come from club funds.
To their great credit and my enormous relief, the club voted unanimously to buy the reindeer.
So we now had a sleigh, a flat- bed trailer and a reindeer on the way.
Time to bring them all together. The trailer was in Norman Brooks' garage so we moved the sleigh there so the two could be married in preparation for the arrival of Rudolph.
All that was needed now was the finishing touches. Rope lights generously supplied at cost by the Alton Garden Centre, mandatory rear lights, a sound system supplied and installed by Rotarian Mike Machin, upholstery and Santa's toy sack made for free by my sister-in-law.
I needed to source some reins for Rudolph so I went to see two very nice ladies at the Longwood Equestrian Centre. I asked them if they had a very small head collar. They showed me various articles which didn't suit. In the end they asked me what was it for? I told them it was for a reindeer which did surprise them a bit. When I explained what it was for, they couldn't have been more helpful. Pulling out boxes of old stock until we came across a head collar which could be adapted to fit. This along with the reins and various candy striped lead reins etc. they again donated at cost.
Finally the day came when everything was complete and we could reveal the finished sleigh. I have to say that, then and now, I am enormously proud of what Canvey Rotary and the generous community at large achieved.
Today, some twenty years later, the sleigh is still going strong, has raised well in excess of £150,000, and I hope it will still be seen and heard around Canvey Island long after those who conceived and built it are long gone.
Colin Phillips
22 November 2022.