Canvey Lifeguards' rebuilt seafront headquarters and boathouse were opened on August 3 of this year by Sir Bernard Braine, MP.,DL.,PC. He paid tribute to their work over the years.
The club was formed in 1958 under the instigation of Chas. Carey who is now the club president. He trained with the Serpentine Lido Lifeguards in London.The first  Canvey  club meeting was  held with  four other  interested persons.
The Club's first boat was a canvas dinghy presented by Messrs G. Prout & Son
1960. The club was given the use of the St John's hut and training went ahead at St Bernard's School, Westcliff.
1961. Bill Adams organised fund raising for the club's first large rescue boat named "Island Gift". It was launched by the Deputy Lord Lieutenant of Essex, Brigadier Shenstone. Within days the boat had been used to save two lives. By now the club had its own wooden hut.
1965. The first fibreglass rescue boat was purchased-
1966. A Dory rescue boat was purchased replacing the original fibreglass boat.
1969.  Lifesaving training was taking place at Rayleigh Sweyne School but as transport was difficult the club applied for and was granted training time at Furtherwick Park School, Canvey, on Friday evenings.
1970. The club submitted plans to the council to use the present headquarters and build the boat house. During that summer 21 children were rescued. Small inflatable boats became popular with the public using Canvey beach and these gave the club a lot of anxious moments.
1971. The club purchased their first Avon Redcat inflatable rescue boat.
1972. The club exchanged their Avon Redcat for a more substantial craft an Avon Searider. At this time a good liaison was established with the Coastguard and Police.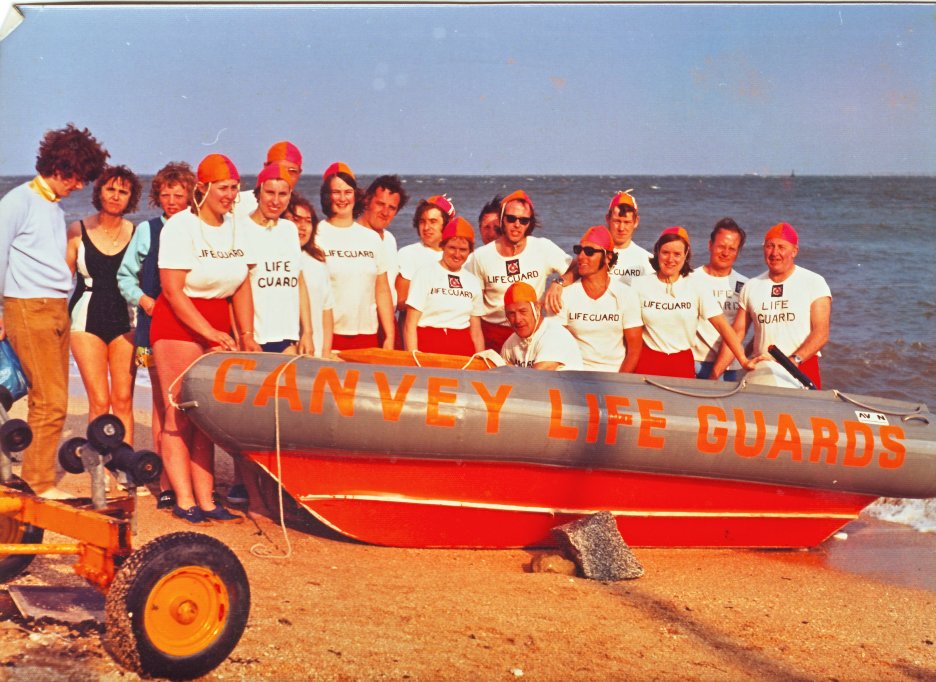 1975. Canvey Lifeguards began a teaching programme at Waterside Farm swimming pool with over 150 youngsters being taught water safety every Friday night. Teaching was also taking place on Sundays and Tuesdays at Runnymede Pool, Benfleet.
For many years Canvey Lifeguards, through their training programme have attained the highest number of lifesaving awards in the county and have held the branch trophy for this.
The club has also been awarded the Lord Lieutenant's Trophy for the "Rescue of the Year" at least four times.
The club now hold a licence to use a Marine Radio. The latest set was donated by Mobil Oil Co. 2 base sets and 1 base set in the rescue boat are now in oper­ation together with 3 outstation sets which were donated by Canvey Carnival Committee.
Photos from our archive