Women battle in first in six-mile swim
Lifeguards 1968
From newspaper clippings in the scrapbook donated to us by Marian 'Clipper' Hastings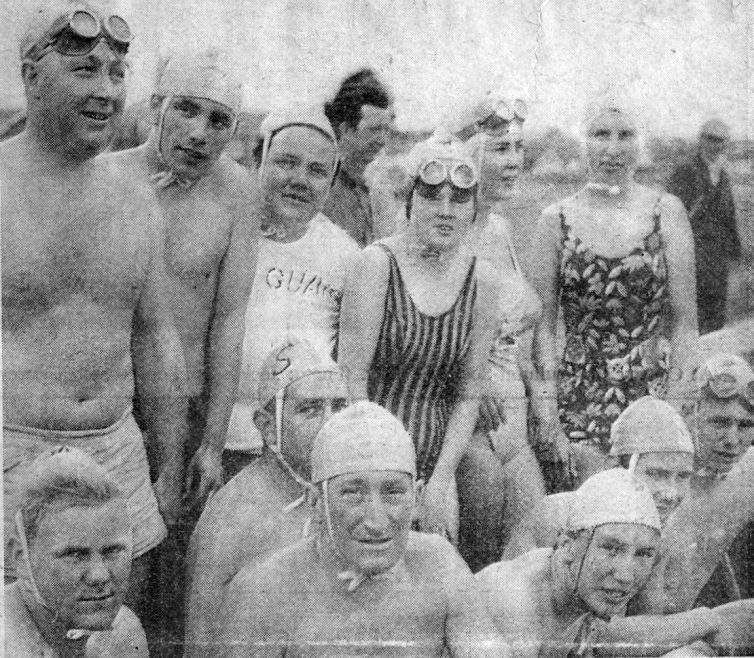 In conditions so bad, that even escorting boats had to turn back, three women came first in the annual life-guards swim between Canvey and the Pier on Saturday.
In rough seas, Mrs Sylvia Mann, of Summercourt Road, Westcliff, completed the six-mile swim in two hours 34 Minuetes. Mrs Mann, Secretary of Southend Lifeguard Corps, was the only member of Southend Lifeguards to finish the course, although four other swimmers reached the Pier.
The swim was all the more remarkable because none of the swimmers had ever swum more than two miles before. Mrs Mann was followed a few minutes later by Joan Miller, of Canvey and Marian Hastings of Thorpe Bay.
First man home was Mr Charles Carey, of Canvey Life Saving Club followed by another Canvey man, Mr Ray King. In all 12 members of the two clubs set out from Canvey Jetty. The cold soon took its toll and five swimmers had to give up within two miles. The next victim was Ken Packer of Rayleigh, who reached the half-way mark. Finally Stuart Mann had to give up within a mile of his goal because of stomach cramp.
The swimmers were escorted by the Commodore of Leigh Motor Boat Club, Mr D Lawson, who had to send two of his boats back because of the rough seas. Other escorts included the Canvey Lifeguard boat and the Stevens brothers.