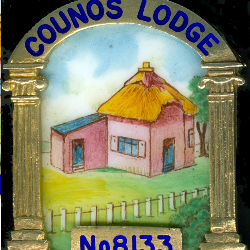 The Counos Lodge was started in 1966 meeting at the Admiral Jellicoe. In 1973 it moved to the Freemason's Hall in Southend.
Quote from their website:
The name Counos is derived from Ptolemy. Claudius Ptolemy was a Greco-Roman writer who lived around AD 90 to about AD 168. One of his main works was the Geographia which was a compilation of the world's geography at that time. In this work he identified an island at the mouth of the Thames he called Counos. It is still disputed what island he referred to, but for a long time it was associated with Canvey Island. The Founders decided that this would be an appropriate name for the new Lodge.
The Lodge's Crest incorporates a picture of Canvey's 1618 Dutch Cottage.