'Blythe Spirit'
Success for new Canvey Group
A local paper announced 'New Amateur Society for Canvey Island' the clipping continues:
Canvey's Pompadour Players, who for the past eight years have been providing regular entertainment, will have to keep right on their toes if they are to retain prime place in the Island's theatre world. Reason for this is the announcement that a new company is being formed on the Island and included in their 'captures' so far are several of the Pompadour's star players.
Taking the title, 'The Dolphin Theatre Group' the society state they are no way connected with any other group on the Island. They have based the society on a 'democratic constitution' meaning that all members will be given every opportunity to develop their talents, whether they want to act, produce, design or make scenery, lighting effects, costumes, study make-up or any other branch of the theatrical world.
So in January 1954 the Dolphin Theatre Group produced their first play 'Blyth Spirit' at the War Memorial Hall on Canvey. Dudley George's collection of photos and cuttings give us some insight into Canvey's theatricals. Part of one cutting shown in the gallery below has been transcribed and produced below.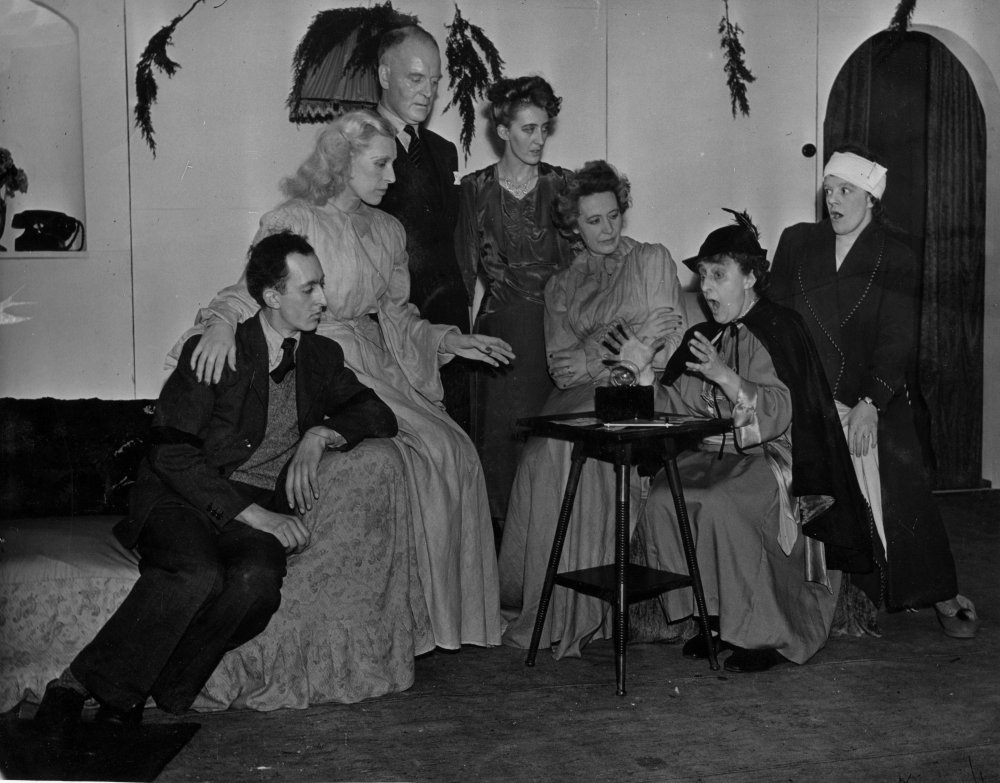 Blyth Spirit
With eagerness Canvey has awaited the flrst presentation by "The Dolphin Theatre Group." When it was announced that for their first play they had chosen Noel Coward's improbable farce "Blithe Spirit," it was felt that they had set their sights high. But the Group scored a success.  For on Thursday, Friday and Saturday audiences at Canvey War Memorial Hall enjoyed sparkling performances.
Coward's play depends for its complete success on characterization and the scintillating dialogue. The cast was a relatively small one of seven players but each completely lived his or her part. Deserving of high honour was Dudley George, who as the "hag ridden" author Charles Condomine gave a convincing portrayal of a man of many moods.
Equally outstanding was Maye George as Madame Arcati. She was asked to play completely out of character with that of the remainder of the cast. As a "medium" she was excellent adapting her voice and gesture as the occasion demanded.
Equally strong portrayals of Ruth (Kay Witcombe), Doctor Bradman (F. C. H. Witcombe) as the sceptical medico and his wife Elvira  (Iris Debnam), Dorothy Austin as Edith, the maid, made her stage debut with a sound performance.