Fishing Boat for the Thames Estuary
The Motor Boat & Yachting, October 1947
Published over 60 years ago in the Moat Boat and Yachting magazine in 1947. The article reads as follows: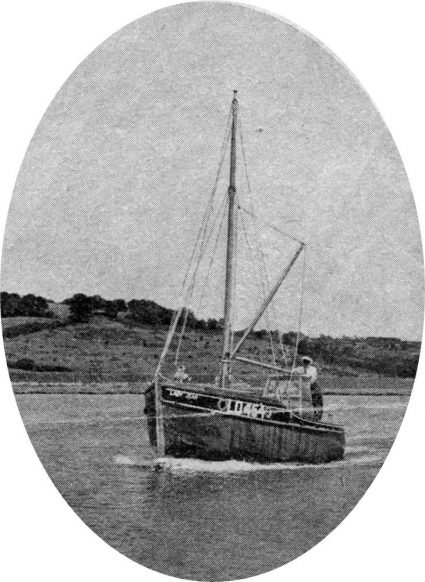 The lines and general arrangement plans of a new fishing boat built by the Dauntless Company, Canvey Bridge, Essex, were published in "The Motor Boat" for July. Since then, we have made a trial run under power on the craft, in company with the  designer, A. C. Dalgarno, M.I.N.A., and the representative of the builders.
Trials amounted to a run from the yard down Benfleet Creek to Southend, and back again—or nearly back—to the yard. The boat was put through her paces for manoeuvrability and handled satisfactorily. The average speed attained, running light, was 6 ½ knots, and this compared favourably with the designer's original estimate. Perfect weather was experienced, hence we had no opportunity of judging her behaviour in anything but a flat calm.
The passage home was against the tide, and, unfortunately, we had dallied off Southend rather longer than we ought, with the result that we stuck hard and fast in the mud 100 yds. or so from the yard. We will leave the remainder of our cruise story to the reader's imagination; suffice it to say that traces of that mud can still be found on the editorial apparel.
The main dimensions of the craft are:—Length overall, 24 ft.; beam, 8 ft. 6 ins.; draught, 2 ft. 3 ins. English oak has been used for the main framing, Canadian rock elm for the steamed timbers and mahogany for the planking, which is laid carvel fashion 1 in. thick. Spars are of spruce and cabin fittings of mahogany and pine. A total sail area of 200 sq. ft. is carried.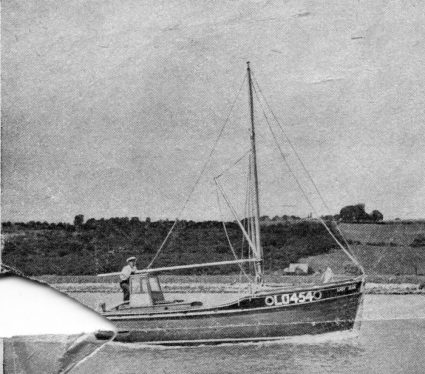 Accommodation from forward comprises a small cabin with two full length bunks, good locker stowage space and a coal fire for the winter at the fore end. Next comes the fish hold with a capacity of nearly 3 tons. Aft of this is the engine compartment, where a 7-9 hp Thornycroft "Handy-billy " operating on paraffin is installed. The unit drives through a 2-1 reduction gear. There is ample room in the compartment around the engine. Finally, there is a steering cockpit with a portable shelter. This shelter can be removed by releasing four brass cabin hooks, and stowed away forward when desired.
Apparently, the owner believes the maximum amount of comfort possible when engaged in his business of fishing, but we are inclined to think that he will come to regard the innovation as something If a nuisance at times.
The illustrations give an indication of the vessel's workmanlike lines, and no doubt; she will stand up well to the arduous nature of her calling.
~~~~~~~~~~~~~~~~~~~~~~~~~~~~~~~~~~~~~~~~~~~~~~~~~~~~
The four pictures below show the craft in various stages of being built.
Thanks to Keith Patten for providing us with this material.