Canvey's Dr Feelgood Film
Oil City Confidential Review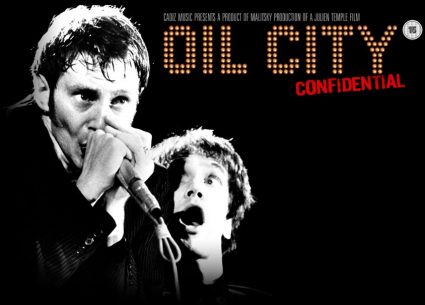 Canvey's Dr Feelgood film 'Oil City Confindential' was shown for the first time this week at the Movie Starr cinema, to a full house. Chris Fenwick, Dr Feelgood's manager, introduced the film, to an excited and mixed audience, including Ray Howard, the Swann girls and 'SPARKES'.
Oil City shows the story of Dr Feelgood including 'Canveys' story and how they grew up together.
The film shows archive footage of Dr Feelgood and Canvey including the Floods, Carnivals, the 'Casino Horses' and the venues where the band played, including the Oysterfleet, Admiral Jellico, Monico and the famous 'Canvey Club'.
Oil City showed Chris Fenwick's famous 'Lee Brilleaux memorial walk' around the Island. Chris Fenwick and Dave Bullock lead the walkers from all over the world around Canvey's 'Feelgood Haunts'.
After the film had finished it had great reviews from all that left with smiling faces, having seen a 'Tongue in cheek' story of a world famous band that came from Canvey Island, and still play at the Oysterfleet.
I 'highly' recommend you see this film, enjoy and 'Feelgood'.