My monkey Patrick
and memories of Canvey
My monkey Patrick had many adventures, one of which was reported in the Southend Echo.
Patrick had climbed up a telegraph pole (nothing unusual in that), however he must have touched a wire that gave him an electric shock – he fell to the ground with a thud. Everyone screamed, I thought he was dead. My mother (an ex-nurse) breathed into pat's mouth (nowadays called 'kiss of life', it was rather unknown in the early 30's (especially used on an animal).
Pat suddenly gave a little gasp and my mother put him over her shoulder, he seemed sleepy, yet breathing ok. The Southend Newspaper had the headline – 'Woman brought a dead monkey back to life' – We became quite famous!
Pat was always up to some mischief. We had a very unpopular neighbour, who was considered by many to be a 'right misery'. She really had good reason to be when Pat jumped on her back one day and tore the artificial fruit and flowers of her large hat. When he found the fruit was inedible he threw the whole lot (hat included!) into a nearby pond – the shrieks from that poor woman were heard for miles around. Mum had to buy her a new hat of course!
Pat was very fond of all our other animals, he would cuddle the kittens for ages, they were quite happy about it. One day he jumped into our large garden pond, holding the kitten around his neck, when he came out of the water the kitten was quite dry and none the worse for the experience.
We didn't know in those far off days, how wrong it was to own exotic animals as pets – All my family loved him very much and sought expert advice how to look after him. He was happy and very healthy whilst with us.
As he grew older Pat became very jealous of anyone who went near me or my mother. Our vet said Pat had reached the 'sexual time of his life'. Pat was quite big now, very strong and when a monkey bites anyone, they also reject their victim, by pushing them away, thus often pulling flesh away at the same time. (Nasty!) It was all becoming very dangerous. As much as he was loved we knew he had to go.
I can recall that terrible time, as though it was yesterday. I was about nine or ten I suppose. When the vet came to collect Pat (my brother went with him) I handed Pat a banana, which he ate as the van drove away – I will never forget it. My family told me that Pat had gone to a lovely home with other monkeys to play with. When I pestered my parents to take me to see him they said it would unsettle Pat in his new life. Years later I asked my brother what had happened to Pat. He looked at me and said "It was for the best". I knew then that my dear Pat had been put to sleep (as I know now, he would have been unhappy without us) I have never forgotten it – a lesson learned.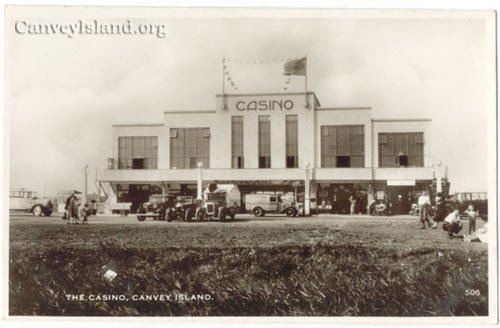 When I began nursing at the Mental Hospital in another part of Essex, I used to spend my off duty time at Canvey, with my family. During the war it was quite a dangerous island. I can recall the evening I had a date with a young serviceman to go to a dance at the Casino on the sea front.
During the interval we went for a walk along the seawall. The air raid warning sounded and we looked up and there caught in the beam of a search light we saw this plane, right above our heads – it looked like a silver brooch in the sky – we saw this object fall from it and then a huge explosion, right in front of us – but luckily the bomb went into the sea – sending up a huge spray of water – we were soaked! – but safe – 'a close call indeed'.
~~~~~~~~~~~~~~~~~~~~~~~~~~~~~~~~~~~~~
We first heard from Joyce in a letter to the Bulletin in January 1983 which can be seen here. At 84 Joyce is now living in Sussex and has sent us this lovely story about her monkey Patrick and some memories of Canvey. Look out for more stories to follow.
Thanks for sharing them with us Joyce
Janet