When I was nearly 18 years, I left Canvey to work as a nurse in another part of Essex and later married my husband in 1949. I was then 23 years old and Sandy (my husband) was 9 years older, we were married for 37 years, until he died sadly one year after we retired in 1985.
When we were living in a staff house at the hospital I heard on the radio that Canvey Island was flooded after a storm over night, this was the 31st January-1st February 1953. I was so worried, as my mother lived on the island, also in another part of Canvey lived my sister and her family. I told my husband but he already knew and he tried to make light of it, as I was 8 months pregnant with my first child and he, in turn, was anxious not to scare me too much. "I'll pop over to your mum's" he said, "In case she needs a hand to dry out carpets etc, and she could come back here with me if she wishes." So that was agreed.
As we had no car in those days it meant Sandy catching first a bus then trains and yet another bus to get to the Island. When he arrived the tide was out but still pretty deep in places. Sandy waded through the water until he arrived at mum's road (Labworth) not far from the Monico. He wasn't allowed to go any further, the rescuers personnel said "Sorry mate, they've all gone from that road." At first for one awful moment, my husband thought they meant that everyone was dead. But he was tired – "No, most of them are ok, they have been evacuated to the Village Hall at Benfleet."
So Sandy hurried to get there, but by now the tide was in again, and it was impossible to get through the water. So my dear Sandy (an ex Burma Star soldier) got as far as that old work place of mine – the Rio Cinema. There he had to climb on the flat roof! As the tide started to go down again, down he went again. There below was an old chap with a dog, trying to wade through the dirty water, full of debris, and very dangerous to negotiate.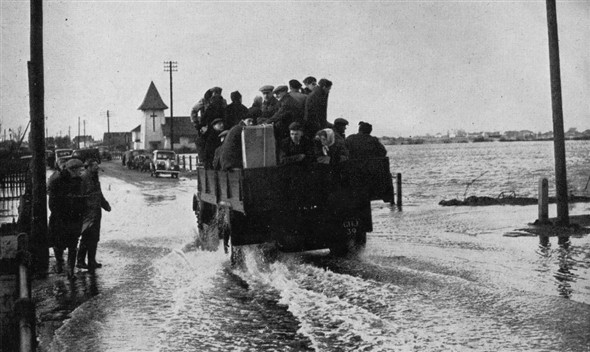 Sandy saw this abandoned car, and said to the man "Come on – get in, I'll try and get to higher ground" "Not without the dog" replied the old chap. "Get him in the back with you" said Sandy. Off they went, very slowly! (It was lucky that my husband had learned to drive in the army.) They did arrive eventually in Benfleet.
Sandy went to the Police Station, explaining about the car and where he had found it. They said "Good for you!" (I wonder would it have been the same in this day and age!) The police told him the car would be safe at the Police Station and they would hope to discover the owner in due course.
When told where Sandy hoped to get to an officer took him and the old fellow (and dog!) to the hall where survivors had been evacuated to. Once safely there Sandy shook hands with the old man, stroked the dog's head, wishing them luck.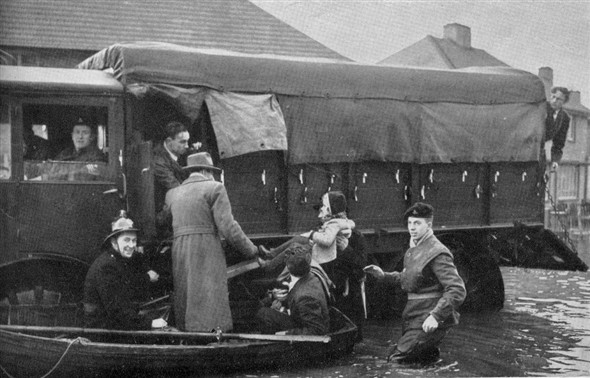 Sandy asked at the hall if Mrs Ellen from Labworth Road, Canvey had been there. The lady looked down a list and said, "Yes, she was here, but left soon after." So there was nothing else to do but for my husband to return to the Staff houses at our Hospital. It took him a long time to get there. He felt worried what my reaction would be when there was no Mother with him.
However, as he went inside the house, there sat Mother-in-law, safe and sound! Although aged 70 years she had braved the journey to our home. She had been given a lift to Benfleet Station still wearing her nightgown (no knickers!) and just an old Army coat given to her at Benfleet Hall. When at the Railway Station, Mum had suddenly remembered she had no money with her! The staff there told her, "We are not charging anyone from Canvey today!"
When Mum arrived to our part of Essex, she was still a few miles from the Hospital. A Policeman saw her and put a blanket around her and drove her to the Hospital and right to our house. Sandy was so relieved to see her.
She'd heard a lot of noise as she lay in bed, her hand reached out over the edge of the bed, right into very cold water. By the time she was fully awake and trying to stand up, she realised the room was flooded. There were screams coming from her neighbours bungalows. Of course she was terrified, but kept her wits about her and managed to get out of her bedroom (no easy task with furniture floating about.) She reached the closed in verandah at the back of the bungalow and found the door leading to the attic. There was a ladder type stair to pull down from the ceiling and shaking with cold and fear, she managed to reach the top, but at first couldn't push the trap door wide enough open for her to climb through. At last she got up there and at least it was dry.
There was a small stove up there, it burnt coal, wood and more or less anything. (The reason it was there, was due to the fact that Mum like many Islanders, took in 'holiday makers' in the summer and she slept in the attic!) The fire was laid, but how to light it? Then with great joy she saw the matches nearby! She got the fire going and indeed, it was that stove that saved her, not just the warmth, but the actual feeling of doing something! She had no light but kept striking matches to see around her.
When dawn broke, Mum looked out of the tiny window. She saw many dreadful sights flow by in the water. I don't want to dwell on that right now, but there was so many lives lost that night, whole families, their animals and of course property.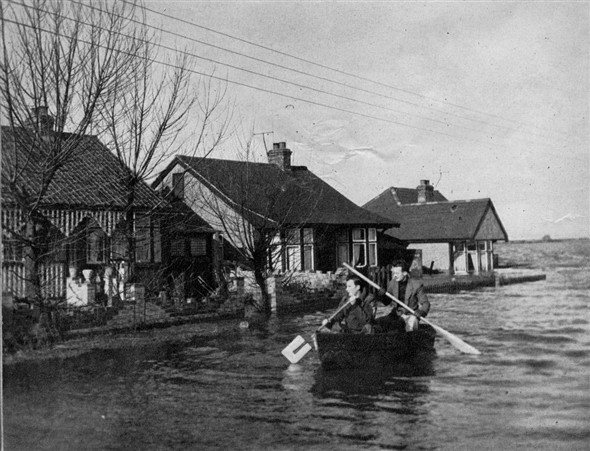 Suddenly there was a loud shout outside, and there was a rowing boat with 2 men in it below. Mum banged on the window and one of the men put up a ladder that had been tied to the side of the boat. He asked Mum to open the window she called back, "It doesn't open." So he asked her to stand well back and to watch out for the broken glass afterwards. Then he smashed the window with a tool he had in his pocket. Next he took his jacket off placing it over the edge of the window, he learned in and told my Mum to get as close as she could and he pulled her through, slinging her over one shoulder. Mum said all she could think of was that she had no knickers on! She even told the chap so! He answered "Don't worry about that, there's far more to worry about!" The other chap in the boat gave them a hand down, which caused the boat to rock, that worried Mum too!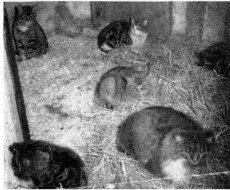 "We will get you to one of the Army lorries and they will take you to Benfleet, where there's people to help you." Then she was asked was there anyone else in the bungalow? "No" replied Mum, "but my cat is missing and my tortoise in his winters sleep in the old air raid shelter." "Well the RSPCA are looking out for all animals, so you may be lucky and get your cat back, they take the pets they find to animal shelters off the Island/ But your tortoise will surely be lost, but at least it wouldn't have known about it." Mum said how kind they were to her, as everyone was at that terrible time.
So that's how my Mum ended up in the Hall at Benfleet. She didn't want to stay for long there, but to get to our place as soon as possible, as she was worried about how I felt over all that was going on! (Incidentally, Mum did get her cat back safely after several weeks. The animal shelters were wonderful in the way they cared for the rescued animals and later sought out their owners.
My late sister, Joan, her husband and two young sons, Peter and John were also flooded that night on Canvey. (They lived near the Dutch Village.) Horace, Joan's husband, tried to get to Mum's bungalow that night, but was unable to do so. Later Peter and John were shown on the news reel being fitted for shoes etc. at a rescue centre (Also their pictures were in the newspaper!)
People all around Canvey and area were so generous sending clothes and blankets etc. also cash, to help the flood victims. There were also many brave acts that night with Canvey residents saving one another as best they could.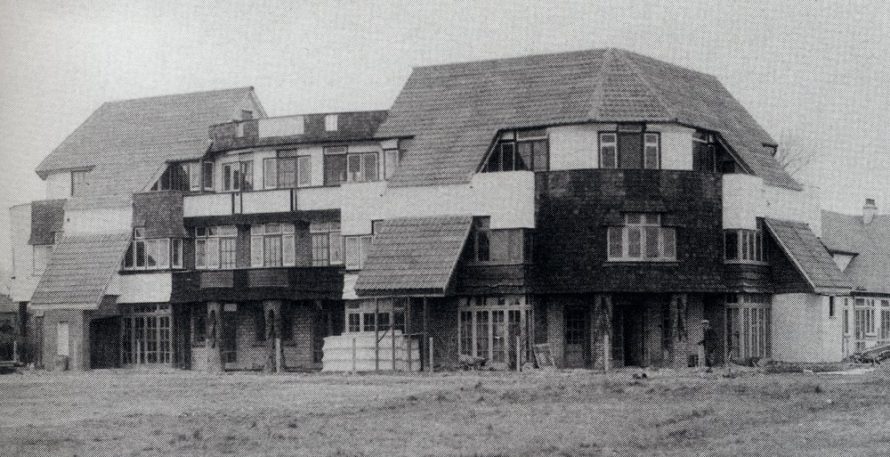 So all my family came through that terrible night safely , their thoughts being for those not so lucky. My Mother stayed with us for several months. As her Labworth Road bungalow was unfit to live in again, her landlord (Mr H Fielder, well known on Canvey) gave her the chance to move to another Canvey property he owned 'Sea View Court' flats (once it was the Ozonia Hotel.) The large building was right on the seafront, near the point not far from the pub Jellicoe. Mum moved to the flat, which was very nice, to the top floor with very good views.
We took over the Cat!