Somerville's Travels published 2009
by Christopher Somerville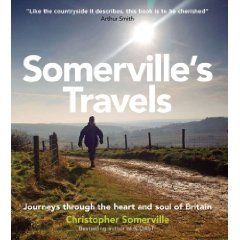 Christopher Somerville writes extensively on Essex, Canvey Island and Dr Feelgood in his latest book, Somerville's Travels (AA Publishing).
The book tells the story of 20 journeys- mostly on foot, but also by bicycle, branch line train, bus, narrowboat and ferry – across very special areas of Britain. Here are remarkable landscapes, travelled by the unfrequented ways that reveal their unique characters.
He writes of Canvey:
'Imagination is a wonderful thing. The special place that the Haworth moors occupy in the heart of a Charlotte Brontë devotee, or the inspiration a lover of John Constable's landscapes imbibes in Dedham Vale – this kind of powerful magic is threaded for me, and for thousands of other music lovers all over the world, through the grey sea walls, the windy marshlands, the skeletal gas jetties and crowded pubs of Canvey Island. Where others see only a bleak Thames estuary shore seeded with chemical silos and cheek-by-jowl housing, Iscent romance and adventure. The moment Icross East Haven Creek Ienter a parallel universe – the chancy but captivating world of 'Oil City', where men are men and women are vixens, where devastating dames tap their scarlet nails on your wallet and dodgy motors are forever about to screech up, driven by just the kind of hardboiled citizens you'd like to guzzle a shot of bourbon with.'
Then later talks about the real Canvey Island:
'As for the 'real' Canvey Island: well, that's another story. All the east of the island is jam-rammed with housing; all the west lies open and green under empty grazing marshes, newly declared an RSPB bird reserve. For me the greatest Canvey pleasure is the 14-mile (23km) walk around the perimeter of the island, and that's what Idid next day. Istrolled for hours with only oystercatchers and marsh horses for company. In front of me slowly expanded the nightmarish shape of a black oil jetty that rose out of the meadows like a demon and strode across the sea wall into the river. Agrand plan in the 1970s to smother the West Canvey marshes with oil installations never came to anything; all that is left is the jetty, tarry black and gigantic in the flat landscape.'
The full chapter on Canvey Island can be read here.