How a Lieutenant of Engineers was Gassed.
From 4th Army Gazette 3rd Sept 1916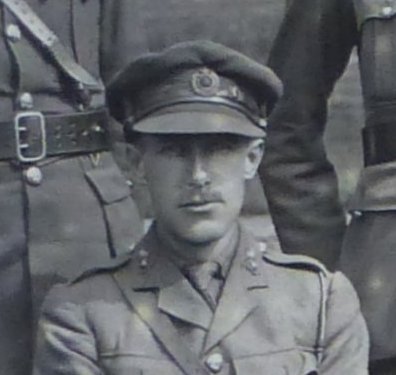 Lieut. W. H. Gregson, E.E. (son of the late Rev. Jesse Gregson, of Rusland), is now at the Royal Military Hospital, Osborne, suffering from the effects of gas and shell shock. Lieut. Gregson led a company of engineers into action at the commencement of the battle of the Somme, about July 2nd. His work was to sup­ply water to our advanced trenches. This was successfully carried out, though the company was under heavy shell-fire day and night, and he lost two-thirds of his men in three weeks.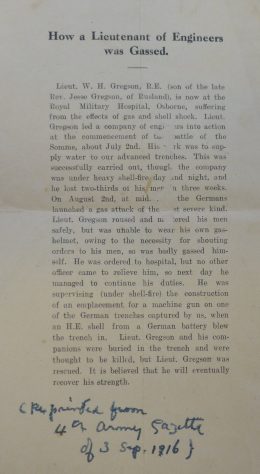 On August 2nd, at mid???? the Germans launched a gas attack of the most severe kind. Lieut. Gregson roused and mustered his men safely, but was unable to wear his own gas-helmet, owing to the necessity for shouting orders to his men, so was badly gassed him­self. He was ordered to hospital, but no other officer came to relieve him, so next day he managed to continue his duties. He was supervising (under shell-fire) the construction of an emplacement for a machine gun on one of the German trenches captured by us, when an H.E. shell from a German battery blew the trench in. Lieut. Gregson and his com­panions were buried in the trench and were thought to be killed, but Lieut. Gregson was rescued. It is believed that he will eventually recover his strength.