Fred Edwards, Ferry man / Bridge operator
Colvin Bridge 1931 opening day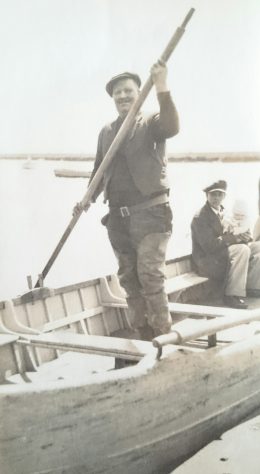 My Gt Uncle Fred Edwards was one of the ferry men prior to the first Bridge. When the Colvin Bridge was built and opened in 1931 Fred was made redundant as ferryman, but given a part to play on the opening day.
He was employed as the bridge operator to lower the barriers and open the bridge for sailing vessels to pass through. He was housed in the little hut on the canvey side of the bridge.
His portrait is included as saint Christopher by miss Barbara Nicholson, who painted the chancel screen panels in St Marys Church Benfleet in1929.