The Fate of Frederick Hester's Photo
on route to the Essex Record Office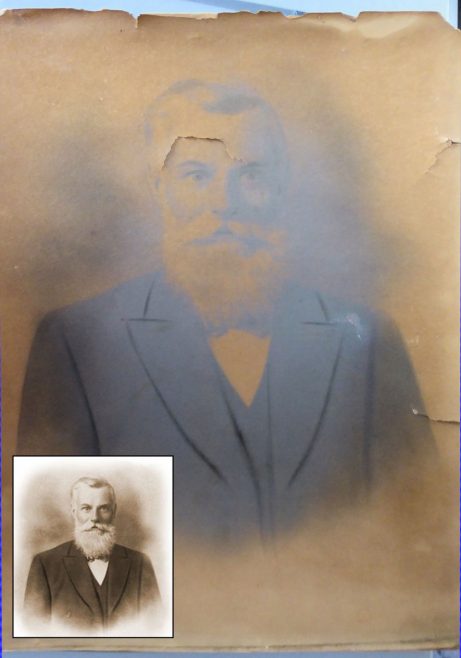 The first time we saw the photo of Frederick Hester was in 2007 when his granddaughter brought it to the Castle Point Show in 2007. Until then we had no idea what he looked like.
The Town Council, with assistance from Archive members, arranged for a blue plaque for Hester and his son to be hung on the wall of the Wintergardens Baptist Church's wall in 2006.
Members of the Hester family were invited to the unveiling and Carol Mayer, Hester's granddaughter turned up with the photo again and said she was giving it to Canvey. It was quickly hung below the plaque for the unveiling but later taken indoors and hung there where it has remained until last year.
As custodians of the photo we took possession of the photo from the church and upon examining it the photo was found to be in a very bad state. Having been exposed to light the image had badly faded. The actual paper was fast disintegrating as you can see from the photo on the right.
The committee decided that to avoid any further deterioration it should be removed from the frame and encased in something flat and dark to keep it safe until it could be deposited in the Essex Record Office.
A smaller copy of the photo will be printed and deposited in one of the island's museums so that his image can still be seen not only here on the archive but in a museum on Canvey where it belongs.
We will update later.