'Riversdale' and the Abrahams Family
'Riversdale' aka 'Full Stop' was built in 1906 on land between Gainsborough and Norbotten Avenue. The property was first built of wood with an iron roof with six rooms, single story facing Norbotten with stables, cart shed and earth closet on the Gainsborough side. (See plan and details in gallery below) The owners were Henry Clarence and Pearl Abrahams, Pearl was the sister of Nissim (known as Ned) Levi of Kismet, a well-known resident of Canvey Island.  In 1911 the couple lived at Clifton, Grand Parade, Cliff Gardens, Leigh on Sea, the property on Canvey was their summer residence. At the time of application for planning Pearl's residence was noted on the document as St Aubyn, Canvey Island. Which was perhaps where they stayed for the summer prior to the building of Riverside or perhaps when they were deciding where to live.
Henry Clarence was born in Hackney in 1871 he married Pearl in 1899 in West Hampstead. He had joined the United Grand Lodge in 1898 where it was stated he was a warehouseman. Following their marriage the couple moved to Brighton where Henry was stated as being a Wholesale Jeweller. They were in Croydon in 1901 when their daughter Doris was born.
We do not know when the couple ventured to Essex but we know they must have visited the Levi's who had arrived on Canvey by 1911. They can be found at their 'Clifton' home in Westcliff from 1911-1914, then 1918-1923 at 'Mona' in Westcliff then in 1926 at 'Derrydown, Westcliff. By 1932 the couple were living in Surrey. They then moved to France.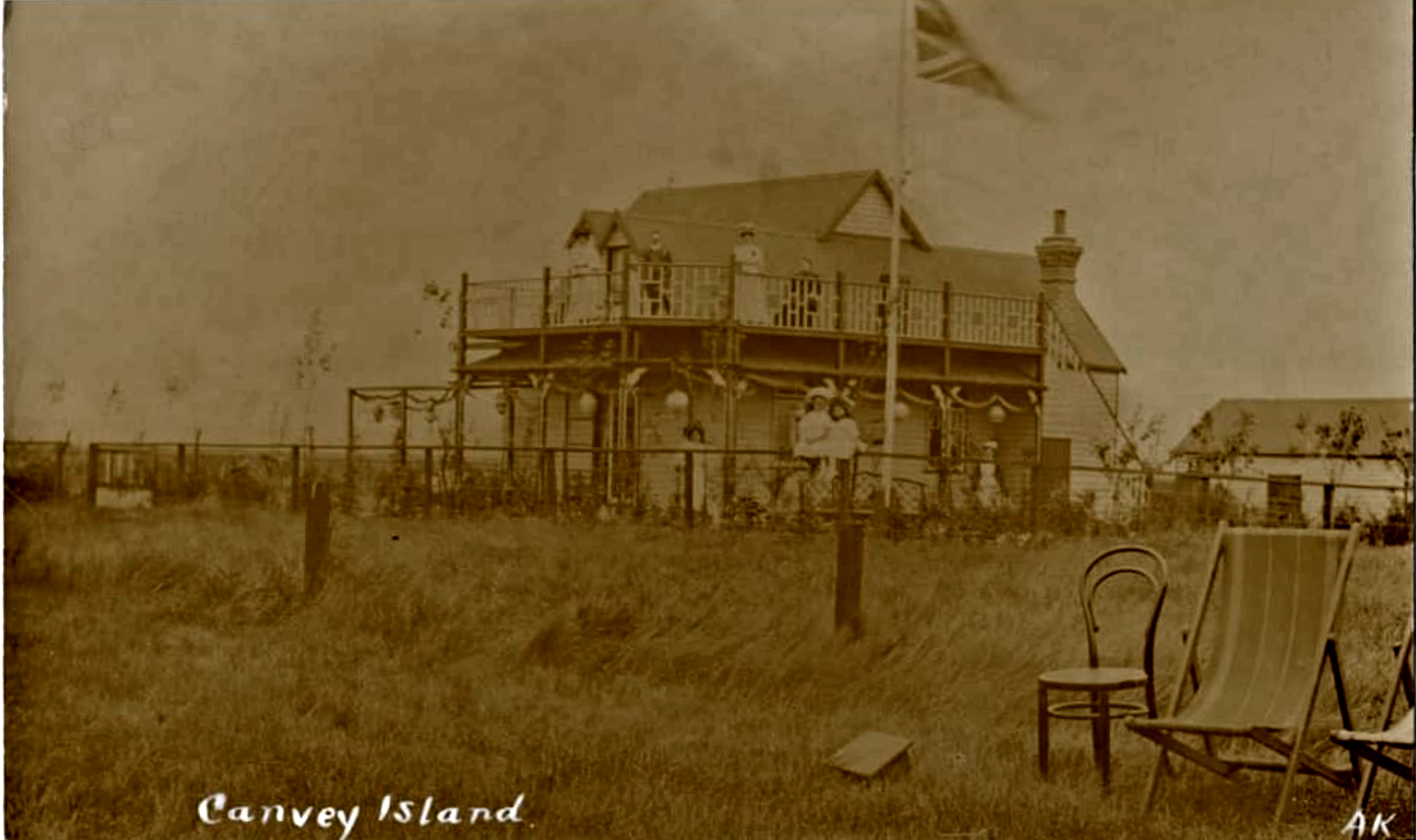 David Woolf sent us these and the following photos of the family. His great grandmother, Sally, was a niece of the Abrahams and spent time in the property following the death of her husband.
Doris Caroline Abrahams, Henry and Pearl's daughter was born in Croydon in 1901. She spent her summers on the island and the photos in the gallery below, taken when she was a child, might have been taken here. Is that Doris in the photo below? Doris grew up to be a well-known critic, novelist and journalist known by the name of Caryl Brahms. A great deal can be found about her life on the internet.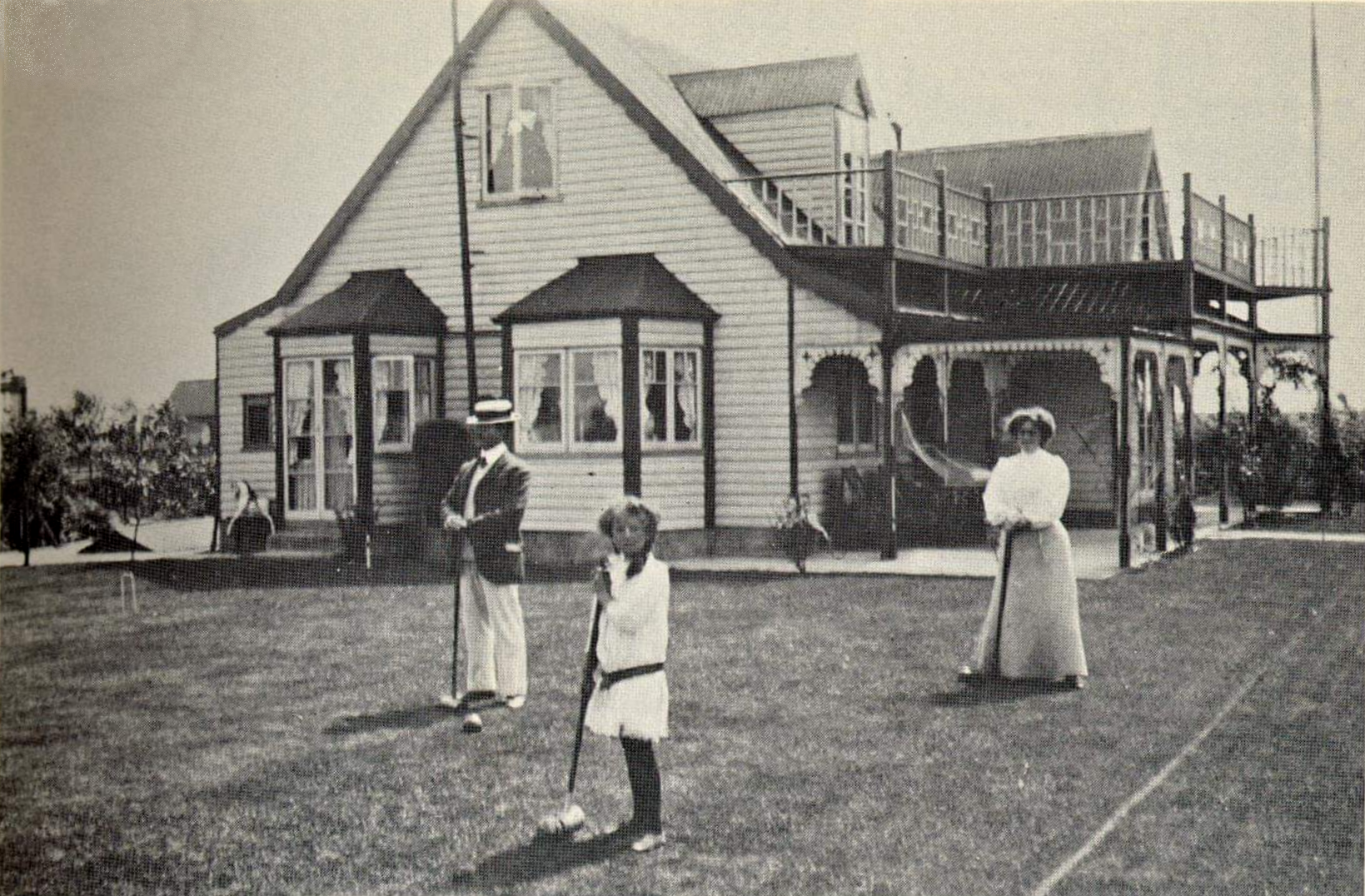 We know Nissim (Ned) Levi was very involved with the community and although Jewish his wife was Catholic and it was at his home the first services in the Catholic Church were performed. The following photo may well be connected to this.
But it was not just Levi who was involved in Canvey life in 1916 the local paper the Westcliff Graphic printed a story:
At the newly-built church of St. Anne, Leigh Beck, a George V. Coronation bell will be dedicated at 10 a.m. This fine bell has been specially cast by the well-known founders, Messrs. Mears and Stainbank, and weighs nearly 2 cwt. An inscription has been cast in it: "George V. and Mary. Coro­nation, June 22nd, 1911."
Mr. Wainwright is engaged upon a tiled ornamental turret which will add to the dignity and beauty of the church. In addition to this, a memorial brass is being fixed in the church, and will be unveiled on Coronation Day.. The State service will be held in the Parish Church at 11.30. Collections will be given to the "Essex Royal Memorial" to fight consump­tion.
Dinner for all residents will be given from 3 p.m. Sports of every kind—some novel—during the afternoon and evening following tea. Every child of school age and under is presented with a Coronation goblet, and Mr. Abrahams is presenting the school children with medals. At eight o'clock a variety entertainment is arranged. The presentation is to be made by Mrs. Brown, Mrs. Harrison, and Mrs.. Abrahams.
The St. Peter's, Bethnal Green, Co. of C.L.B. will be in camp at the Vicarage, and give a display during the festi­vities.
Riversdale was sold to the Kaye family in 1918. The Abrahams later moved from Essex to Surrey and after the war to France. It was here they died. Henry in 1946 and Pearl in 1950.
With grateful thanks to David Woolf for his great photos and information. and also to Martin Lepley for the additional info.