Mr Punch up in style
Echo 1977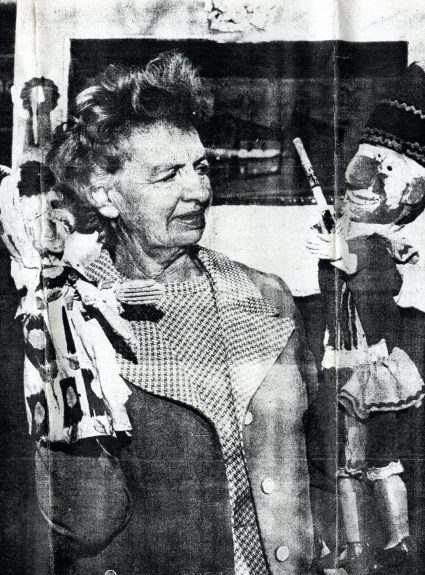 Middle-aged Winnie Capser is having a long-stand­ing affair with a wife-beater and child-killer. But then he's Punch and she is a rarity — A Punch and Judy woman.
For 20 years she has been keeping children jeering and cheering at parties, fetes and on the beach at Canvey, where she lives. She's never been busier. For it seems that despite the Muppets and Paddington Bear the hook-nosed rascal with the raucous squawk has never been more popular. The same children who chew their nails while Doctor Who fights off some nasty piece of space-age imagination, still love this puppet tale of violence and death that came to Britain more than three centuries ago.
This week at her home in Rayment Ave­nue, she's been repairing the results of the latest small booth violence in time for a busy Christmas season. Poor Judy, born on a woodcarver's bench in Devon, is having a check. Three weeks ago Punch went over the limit with his stick and amputated her nose. Glue and woodfiller work wonders, but now she needs a new dress and bonnet to keep up her morale. Glossy paint repair the signs of all the stick Punch gives Judy and his other victims — the baby, the policeman and, of course, the hang­man and the crocodile. Punch is Winnie's favourite. "I suppose it's because he's so forceful," she said. "He's the dominant character. Wi­thout him there wouldn't be a show."
Miss Capser is a gentle woman who de­votes a lot of her spare time to caring for unwanted animals at Canvey's RSPCA clinic. She dislikes the modern trend of up-dating the story by adding new characters to the version taught by her late father who enter­tained generations of children. "I like to keep to the tradition. It's a very moral story. Punch might set about Judy and the other characters, but he gets his just deserts when he's eaten by the crocodile. If anything, children are more blood-thirsty now. They don't mind Judy getting a bashing . . . and they like to be frightened when they are in an audience. But when the audience is made up of under fives I al­ways tell them at the end that the crocodile has a zip-fasten­er in his skin and when he is asleep Punch creeps out and gets away."
If anything has changed it is the age of Winnie's audiences. They have got younger. It seems children have got so sophisticated they now con­sider they are too old for Punch and Judy at eight But they start as young as three now. One set of fans never changes. Whenever Winnie puts up her booth she knows there will be plenty of adults around. "They seem to enjoy it as much as the children. With some it's nostalgic but it is surprising how many adults have never seen a Punch and Judy show. It's more popular than ever, perhaps because people are going back to traditional things.
Winnie finds grown-ups are just as keen as children to learn the secrets of her craft and they are not amiss to pe­ering in the back of her booth. She guards Punch's secrets jealously and was angry when Blue Peter. BBC TV's pro­gramme for children, showed how a swazzle worked. If you are none the wiser the swazzle clamped in the puppeteer's mouth produces Punch's traditional sing-song squawk. She believes that if the sec­rets are not kept the chil­dren's sense of mystery and wonder will be lost and Punch could lose his charm.
And after such a long affair that would be tragic for Win­nie. "Punch and Judy is a way of life . . . and with so many children around I could never be a lonely old spinster."