This is a letter I managed to find sent to Gwen Evans by her brother Alleyne. Although not directly about Canvey Island it is of interest to us because the writer and recipient are long time residents of Canvey and are great grandchildren of Crisp Molineux HARRIDGE one time landlord of the Lobster Smack Inn. It also gives some insight into life post WW2.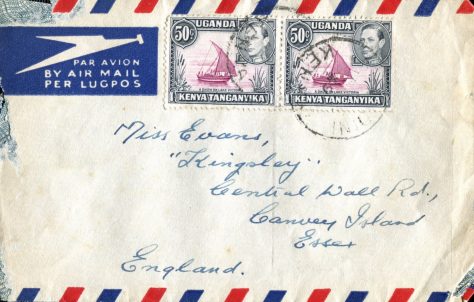 SS Karanja, Mombasa. Feb 14.1949
Dearest Gwen,
Here is my first letter from my ship, which is the latest luxury liner of the B.I. Company. She is very elaborately fitted out, but is not so home like as the older ships, I think she has everything electrical which it is possible to have, including a lift. My cabin has two blowers, which, by turning on a pivot directs a strong stream of warm air, cold air, or a mixture of' the two at will. The machine driving this circulating air, together with the motion of the air itself through the pipes, causes a hum which pervades the whole ship, but one's ears soon get attuned to this hum and one ceases to notice it. In addition I have an electric fan which I never find it necessary to use, hot and cold water laid on it addition to the h & c in the bathroom, and every possible comfort. However there is a tremendous amount of work to be done on a ship of this type. There is an overall broadcast system over the ship, with 16 loudspeakers and two amplifiers, which has to be maintained by us – and the passengers soon start complaining if they don't get their news. Then there are two electric gramophones with and amplifier, for dances and a public address system operated from the bridge, again maintained by us. On top of that we have the Radar, which is so new and so complicated that there are very few people in the country who understand it at all. We have a sketchy training and are expected to keep it a going concern. There are over 200 valves in the total radar equipment and each valve has its complicated circuit. It presents a picture of an area of 30 miles around the ship, showing the outline of any land, other ships, etc, even at night and in the densest fog. Then we have to maintain the Recorder which electrically traces a diamgram of the-bottom of the sea underneath the ship and the Echometer, which gives a visual picture of the same. Then there is the Direction Finder by means of which we can take bearings on any coast or ship station using their radio, and the Automatic Alarm, which responds to a special distress signal by ringing alarm bells all over the ship. This is used when no operator is on watch. All these very complicated pieces of apparatus are in addition to the main transmitters and receivers for the ship's communication system, which many people believe to be our sole job on the ship. Finally two of the motor lifeboats have each a complete receiving and transmitting outfit on board, with batteries and aerials complete. My watchkeeplng hours are very unpleasant – from 2000 GMT (8 pm. G.M.T) to 0200 ( 2 am.GMTM). 0f course, the time by which our days are regulated is ship's time, which depends on the part of the world in which the ship is at any given moment. So when we left India with local time 5 hours ahead of Greenwich my watchkeeping hours were 1.30 am to 7.30 am. That was not too bad, since, if I turned in immediately after dinner I could get about five hours sleep.
Now our time difference is 3 hours, so I am on watch from 11 pm to 3 am, which means I can get about two hours sleep before 11 and about 3 after 5 am later it will be 2 hours or from 10 pm to 4 am. Then I shall turn in after coming off watch at 4 am and sleep through till about 10.30 going without my breakfast,
I hope to see the Lowes at Durban. We only get 5 days there, unfortunately, arriving on Feb. 23rd and leaving on March 2nd.
We carry 1st and 2nd class passengers, whose accommodation is really luxurious, but the bulk of our passengers (about 1000) are deck passengers. These are now known as unberthed passengers.
They do not have cabins but live on the open decks on top of the cargo hatches, etc and usually bring their own food, although there is a man who pays the B.I, to be allowed to travel and cater for those who do not do their own catering. Those people are mostly Indians and it is very interesting to look down on them from our deck to where they swarm in their own part of the ship – men , women and children. They are perfectly happy, as that is how then live at home, and in fact many of them could well afford to pay for cabin accommodation if they wished to do so, but prefer to travel that way. We called in at the Seychelles on the way here. I went ashore at Port Victoria, on Mahe island and took a taxi across the Island to the beach on the other side. Was disappointed, however, as to shells. The island itself was interesting though. Was something like Mauritius, only smaller and without the sugar plantations, The inhabitants are mainly negroid and all look very prosperous. Even in the small villages the children were all neatly and cleanly dressed in European clothing. It was school leaving time as I passed through and I did not see a single one of the pretty little negro children who was not dressed as well as English girls and boys of the better type in the summer time. Certainly none of them presented the appearance of so many of our Council School children.
This morning I had a letter from you. It was one of those which had obviously just missed me and was dated Nov 23rd. Your in­formation that Tommy Mellor was going abroad was news to me. Could you please give me further details – where he is going, and when? Also his address if possible. I would like to look him up. I know that he wanted to go to South Africa, so I may have an opportunity of seeing him.
We played a game of cricket yesterday against two of this company's ships, and won. I did fairly well, and had three catches. The ground was very had and we had to play on coconut matting. Am fairly stiff today, but by no means knocked up as are several of the younger fellows. One gets into very bad condition at sea.
Well dear, I think that is all for the moment. Will write again from Durban, and hope to receive from you there, also.
All my love, dear.
Alleyne