William Finch and the Slavery Connection
We have been trying to find out details of William Finch who we know was the licensee of the Lobster Smack Inn in the early 1800s. Quite when he took over we do not know.
James Richmond was the publican from 1813 until his death in 1826 when his wife Susannah took over, it is recorded that she was the landlord in 1828 by Alehouse Recognizances.
We know that William Finch was the publican of the Lobster Smack in 1839 as recorded in Pigots directory. It would appear he was the publican at the Hoy (Hoy and Helmet) in South Benfleet between 1828 and 1833. When exactly he came to Canvey or left we do not know but he had left by 1841 as by then Crisp Harridge was in charge. So from the records we have he could have been there 1833 to 1840.
How old he was or where he came from is difficult to establish with both his names being fairly common. A William Finch, Vitualler of Essex birth, is in the 1841 census in Writtle with a wife Elizabeth. Other census shows a William Finch and Elizabeth in the trade but the age would not be right or he would have been 16 when he was at the Hoy. But it definitely looks likely the William at the Hoy (Hoy and Helmet) is the same as the one at the Lobster Smack.
We have recently, thanks to the Benfleet Community Archive, found out more about the family with their article about Samuel William Finch and the slavery connection. It seems likely our William Finch was the uncle of Samuel William Finch. As the Benfleet's article mentions, slavery had been abolished in 1833. Samuel was born in 1822 in St Vincent to Samuel Finch and his wife Alzira. The couple had married sometime between 1817 and 1822. Confirmed by research which shows that in 1817 Alzira Constance Daley was the owner of 'Mary Mart and her daughter Elouise'.  In 1822 Samuel and Alzira Finch 'freed' the slave 'Mart' and her daughter 'Elouise'.
Samuel snr was mentioned in the slave registers in January 1831 so it can be assumed he died soon after as his son was next mentioned in May of that year as the owner of the eleven slaves.
Samuel William Finch inherited eleven slaves upon the death of his father Samuel Finch. Samuel's will named John Whitlaw (sometimes described as a merchant, other times a writing clerk) as a Trustee for his son, and there are records to show that John Whitlaw completed a 'Triennial Return of Slaves' on behalf of Samuel William Finch, aged thirteen, in 1834.
Samuel was under the guardianship of John Beresford, Colonial Secretary for St Vincent it is believed likely his mother Alzira had died before his father. He was the beneficiary of £339 2s 2d in compensation from the government for the loss of the eleven slaves he owned on the 'Chateau Bellair' estate, in St Vincent.
It would seem that Samuel came back to the UK not long after the death of his father to live with his Uncle who might already have been on the island. We have not found any records pinpointing when either first lived here.
In his will, dated 1837, he left everything to his Uncle William Finch who by then was living at the Lobster Smack on Canvey.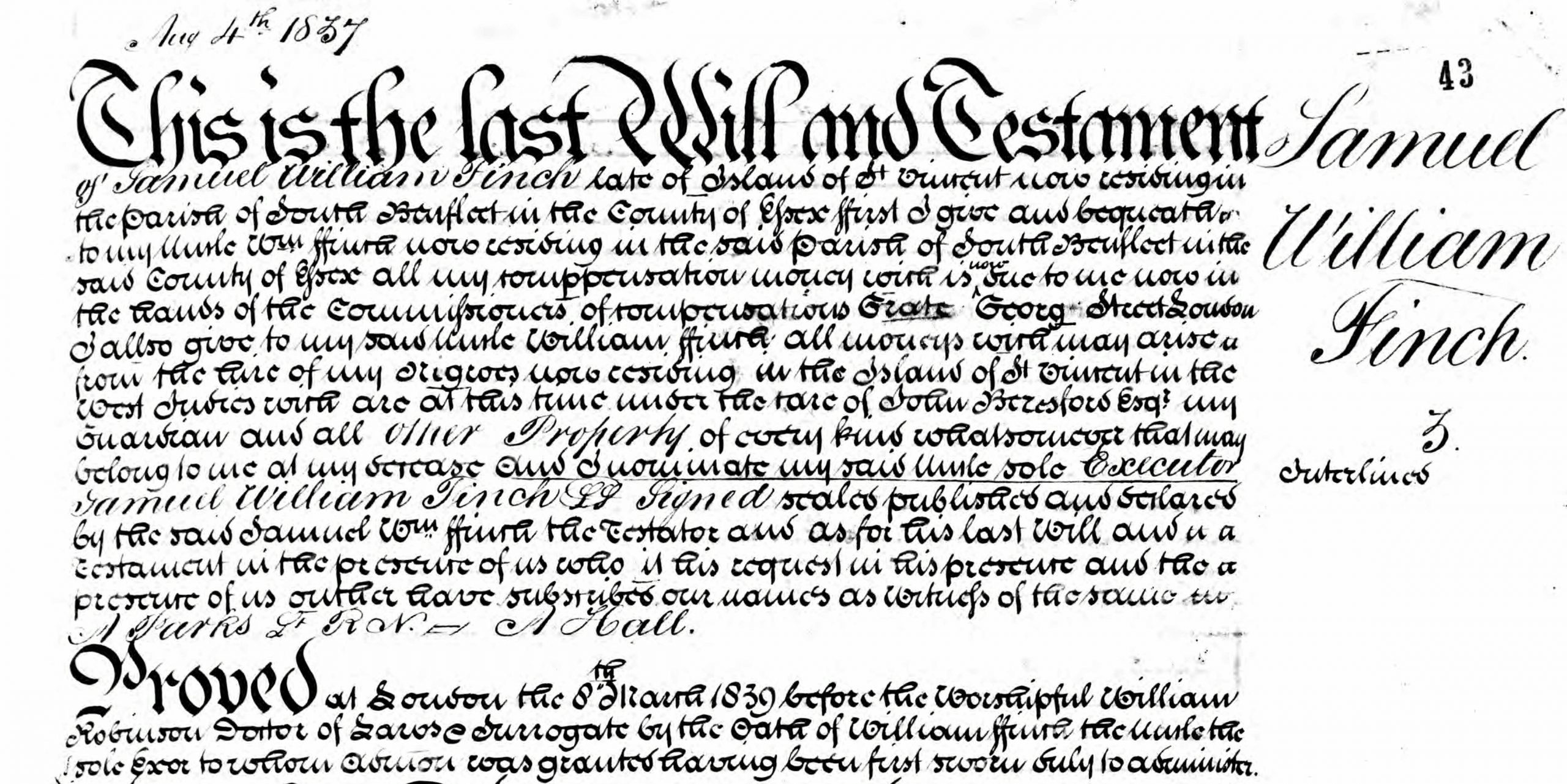 Benfleet have transcribed the will.
Samuel William Finch died on Canvey in 17th August 1837 aged 15 he was buried on the 21st August and as most Canvey Islanders were in those days at St Mary the Virgin, South Benfleet. His grave can be seen in area B in the SE corner between the path from the Lynchgate and the east window.
Dated 1st April 1839: claim by John Whitlaw as trustee of S.W. Finch, a minor. Counterclaim from 'William Finch of South Benfleet Essex as one of executors of Samuel Finch as to two-thirds and to one-third  in his own right under will of said S. Finch.' William Finch was the uncle of Samuel William Finch, and sole executor.
As to William….. maybe one day we will find out more.
Quote from Benfleet Community Archive