1 - Charlie Stamp - The fisherman
Stories I have heard of Charlie Stamp including those on our website would leave you to believe he was a local man but I am afraid you would be wrong. He was not even from Essex. I am sure I would have recognised the accent if I heard him speak, he was born on the IOW at St Helens, Ryde. He did not came to the island until about 1924.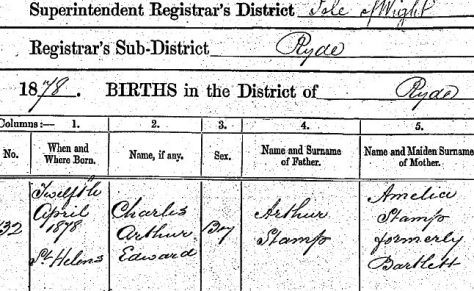 Charlie, born Charles Arthur Ernest Stamp in St Helens, Ryde, IOW in April 1878, to Arthur and Amelia Stamp. Arthur and his children, Priscilla, Hannah and Charles, were all born on the IOW. His wife however was born in Essex. Charles and his parents moved to the mainland around the Ockham area then Thames Ditton. We now know his sister Priscilla, who had married Frederick Newbury, was living in Leigh-on-Sea. Charlie gave her name and address in 1916 when he was called for service aged 38 years and 11 months. Charlie gave his address at that time as Roberts Avenue, Leigh-on-sea which was his sisters address. His service papers are very interesting. He joined the 10th Bn East Surrey Regiment. He is described as being 5′ 6 1/2 " tall and he worked as a fisherman.
His service however was short lived. He was called up on the 25 March, joined on the 27th and discharged on the 12th July. The reason was he applied to be transferred to the Royal Naval Voluntary Reserves as he trade was as a fisherman. (See letters below) He was told that if he could prove he was a Sea Fisherman he would be able to transfer to the Royal Naval VR (Trawler section). Which we presume happened.
Charles married his wife, Irene Hills, who was seventeen years his junior, at the Register Office, Rochford District in 1924. Charles was 46 a fisherman living at Sea Brink, Canvey Island, his father was Arthur Stamp deceased. Irene was 29 of Leigh on sea. So Charlie had already arrived on Canvey in 1924. There is the article by James Wentworth Day which quotes the year as 1924. From 1927 to 1934 Charles and his 'Sea-brink' home at the Point are mentioned in Clarkes estate papers. Also their son John Charles, born 1928 was baptised at St Katherines in June of that year also confirming his address and his occupation was stated as builder.
Of the man himself, Day describes him as "a short, broad, brown visaged individual with dark brown hawk-like eyes and a buccaneering air … thirty three or so, with gold earrings, moustached, and an air of mingled quietness and you-be damnedness…he ought, however, to have been born a century or more earlier, for no more ideal buccaneeror man-o'-warsman ever stepped than Charles Stamp, the professional wildfowler of Canvey Island." He was in fact in his 40s at this time.
He lived at Sea-Brink, Canvey Point which I understand was right up against the seawall and he had a gangplank across to the wall. Day describes him living in a "remarkably comfortable and scrupulously clean little house of ships timbers, where his wife put one up at most moderate charges. It lay right under the sea wall only a yard or two from the saltings. I have shot curlew from the doorstep and seen barnacle geese within one hundred yards of it."
Charlie describes his encounter with the Viking Ghost in his colourful language "He turned round, went out of the winder, along the plank which leads from the winder to the top of the sea wall, and then on the saltings and the mud flats. He made for the sea and splashed into it. He turned once and waved farewell to me, sad and sorrowful-like. Then the water swallowed him up. I ain't never seen him since" You can read more about his encounter with the ghost on our site.
He was featured in the Sporting Times in 1928 when he was described as the Crusoe of Canvey.
Sometime between 1934 and 1939 the couple left the island and moved to Hillside Road in South Benfleet where they lived until their deaths, Charlie in 1956 and Irene in 1983.
A couple of interesting points. Around 1930 Charlie wrote to Mr Lawrence, trustee for AM Clark, asking for 'a price for 4 plots of land to the west of his (next to Dr James')'. Also his son was baptised not by the local vicar but by L James BD (Bachelor of Divinity). As it happens I am also digging into this neighbour who is actually Rev Henry Lionel James who had a holiday place at the point called 'Sea View'. He is obviously one and the same person.