The Crusoe of Canvey Island
Sporting Times 1928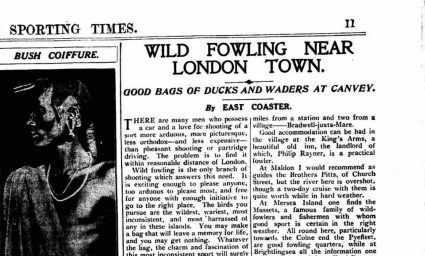 Wild Fowling Near London Town
Good Bags of Ducks and Waders at Canvey
by East Coaster
There are many men who possess a car and a love for shooting of a sort more arduous, more picturesque, less orthodox—and less expensive— than pheasant shooting or partridge driving. The problem is to find it within reasonable distance of London.
Wild fowling is the only branch of shooting which answers this need. It is exciting enough to please anyone, too arduous to please most, and free for anyone with enough initiative to go to the right place. The birds you pursue are the wildest, wariest, most inconsistent, and most harassed of any in these islands. You may make a bag that will leave a memory for life, and you may get nothing. Whatever the bag, the charm and fascination of this most inconsistent sport will surely capture you if you have anything at all of the primitive urge that made man a hunter since he was anything at all.
Years ago Canvey Island, off South Benfleet, Essex, was the nearest wild-fowling ground to London, and a very good spot too. To-day one end of the island is a bungalow colony full of young women in bare legs and gum boots and young men with cretonne shirts, jelly-bag caps, and "shorts," who rejoice in the generic name of "Squonk " ; but, even so. I have shot, only two winters ago, good bags of duck and waders, and seen geese within 300 yards of the bungalows.
That was in the winter of 1925, during which two gunners killed no fewer than 49 widgeon in one evening "flighting " near Pantiles Farm on East Haven Creek, at the unspoilt end of the island.
The Crusoe of Canvey
Canvey still boasts one of the old school of professional wildfowlers, a man who has spent half his life ashore and afloat after geese and duck. His name is Charlie Stamp of Seabrink, Canvey Point, sometimes known as the Crusoe of Canvey. I can recommend him most highly to anyone who wants either an afternoon's sport on the mud flats, a trip afloat with the big gun, or merely a little practical tuition in the arts of wildfowling. Stamp possesses a punt, a big gun, and a motor cabin cruiser, and puts one up for a night or two at most reasonable charges.
The North Kent marshes round about the Swale, ……………………………….
The first part of the article as it relates to Canvey Island