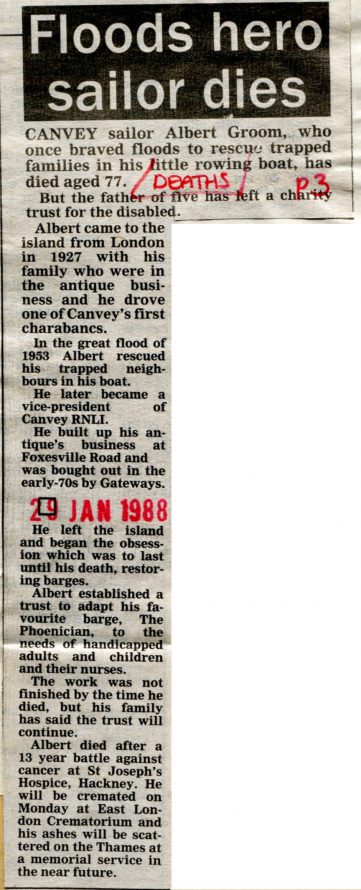 Canvey sailor Albert Groom, who once braved floods to rescue trapped families in his little rowing boat, has died aged 77. But the father of five has left a charity trust for the disabled. Albert came to the island from London in 1927 with his family who were in the antique busi­ness and he drove one of Canvey's first charabancs. In the great flood of 1953 Albert rescued his trapped neigh­bours in his boat. He later became a vice-president of Canvey RNLI. He built up his an­tique's business at Foxesville Road and was bought out in the early 70s by Gateways.
He left the island and began the obsess­ion which was to last until his death, restor­ing barges. Albert established a trust to adapt his fa­vourite barge, The Phoenician, to the needs of handicapped adults and children and their nurses. The work was not finished by the time he died, but his family has said the trust will continue.
Albert died after a 13 year battle against cancer at St Joseph's Hospice, Hackney. He will be cremated on Monday at East Lon­don Crematorium and his ashes will be scat­tered on the Thames at a memorial service in the near future.