MBE for Sports Hero George
An article in the Echo 2007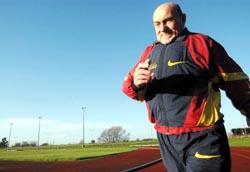 AN athletics coach who helped train Commonwealth gold medal winner Dean Macey is celebrating after being appointed an MBE in the New Year's honours.
George Beecham, 76, from Canvey, has worked tirelessly to raise money for charity and promote sport among young islanders.
He is one of the founders of the Canvey Athletics Club, along with Pat Bassett and Ron Rowe and has run in 12 London Marathons – with a place already booked for his 13th next April.
He said: "It was very nice to find out about it.
"I didn't expect it, because with the work I've done, and been involved in, you don't do these things for what you can get. Still, it's very nice."
Mr Beecham was born in Hackney in 1931 but moved to Surrey during the Blitz.
He married his wife, Marlene, in 1957 and the couple moved back to London before settling on Canvey in 1963, with daughter, Catherine, who was born in 1967.
Mr Beecham, of Tewkes Road, continued to work as a Post Office engineer, but became involved in the fundraising branch of the Royal National Lifeboat Institute on Canvey and is now the chairman.
He took up racewalking in 1948 to help his asthma and his interest in the sport meant he met fellow sports enthusiasts, who decided to start the club 25 years ago.
He said: "There was no athletics club on the island. A local group of us used to train on the cricket field.
"I sit on the local sports council and campaigned for 13 years to finally get a track at Waterside sports centre."
It was this track Mr Beecham used to train Dean Macey to improve his endurance.
Mr Beecham said: "Dean always showed promise.
"He was always quite fast and quick to learn."
As well as the marathons Mr Beecham takes part in the Nijmegen three-day 200km charity marches in Holland.
He has completed 17 such marches in the past 18 years raising funds for Canvey charities, while his marathons have raised thousands for asthma charities and the RNLI.
An article from the Echo 2007