Madge 's volunteer work earns a just reward
Echo Clipping and photo Jan 1975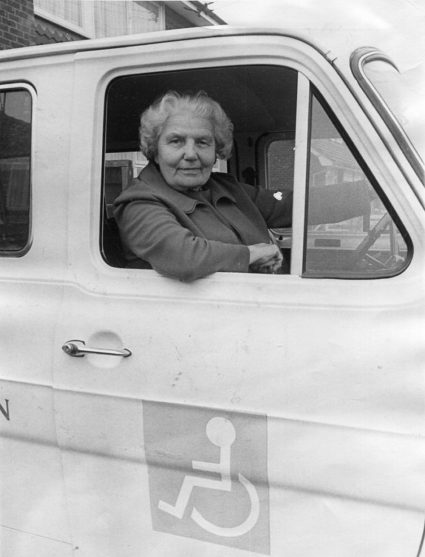 A champion of the disabled on Canvey has been awarded an MBE in the New Year's ho­nours list. After hearing the news, 65-year-old Miss ' Madge' Moore said: "I am delighted that the island appreciates my work."
Miss Moore is a regular sight driving the Transit van belonging to Canvey's Help the Disabled Association — which she helped form in September 1973. She is also vice president of the St. Raphael's Club, anoth­er disabled group on Canvey. Miss Moore, who lives in Point Road, said: "Some friends and myself used to take the disabled in our own cars. But these were too small and uncomfortable."
Rangers
"We tried to get a big vehicle and the van was donated to us. We drive the disabled to their various functions and to hospital. "The van is very useful be­cause it has a hoist on the back for wheelchairs." Miss Moore's association with Canvey stretches 45 years.
Until 1968 she was a qualifi­ed dispenser at Canvey chemist shop and for 35 years ran the Canvey Sea Rangers group. In 1970 the sea rangers be­came land rangers and Miss Moore retired from the group. But several 'old girls' of the group and their husbands have formed a sailing club and with Miss Moore still take the old ranger's boat, Triumph, sail­ing. Miss Moore used to skipper the boat.
Miss Moore did voluntary work on Canvey during the war and the disastrous floods of 1953 and has been involved with numerous community as­sociations.
Does she intend to rest on her laurels now she has the MBE? She said: "No. This is my retirement work and I in­tend to carry on."