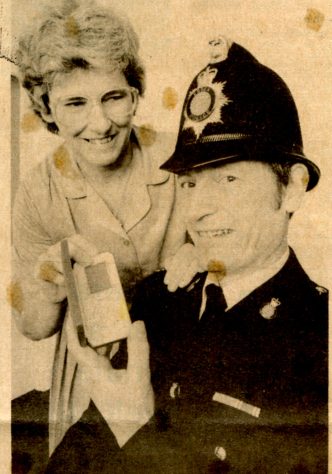 Canvey policeman Graham Elliott and his wife, Barbara, proudly show off the British Em­pire Medal awarded to him for his 18 years of fund-raising and charity work on the island.
Pc Elliott, the driving force behind the Canvey police raft, was presented with the medal at County Hall, Chelmsford, by the Lord Lieutenant of Essex, Admiral Sir Andrew Lewis.
He was included in the Queen's New Year's Honours List for raising thousands of pounds for charities since he joined Canvey police in 1965. In 1978 he was responsible for entering the police in the annual raft race, and the police raft, which he skippered last year, has so far raised £5.000.
Pc Elliott. 43. is also treasurer of Canvey Parochial Church Council and has been connected for many years with St Nicholas' Church, Long Road.
Pc Elliott said: "I consider this medal is for my wife as well because without her I would not have been able to do half the things I have. It is also for the people of Canvey, because their support and generosity has been so great. Canvey has great com­munity spirit and it is not until you live and work here that you realise what a wonderful place it is."
He and his wife have four children.
From Echo Newspaper Archives