From an Echo article in 2017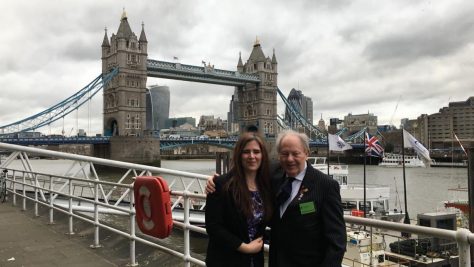 A SCHOOL governor was the guest of honour at a special celebration with the Duke of Edinburgh at St James's Palace.
Ray Howard, 74, was nominated for the special role at the Duke of Edinburgh Award Gold Presentation ceremony by Essex County Council after spending 50 years as a school governor at Canvey Junior School, in Long Road, and as a governor at Northwick Park Primary School, in Third Avenue, which he joined in 1969.
The council wanted to thank him for his dedication to youth services. Mr Howard was sent up to St James's Palace where he was given pride of place in the ceremony, met the Duke of Edinburgh and made sure Canvey made its mark during the service, which was held to recognise young people who had completed the awards scheme.
Mr Howard said: "It was such an honour to go there and be the guest of honour. It was lovely to be nominated as I have been very supportive of the youth services for many years and a governor of the schools for a long time too." But I can assure you I put Canvey on the map! I never miss an opportunity to talk about Canvey.
"The Prince of Edinburgh was there and he came over; I was one of just a few he shook hands with.
"I said to him 'I'm from Canvey in Essex and he said he had been there.
"He said he thought he had met me before and I said he had, at the 50th anniversary of the 1953 floods on behalf of Essex County Council.
"I told him I was 11 when the floods occurred and he got confused and thought I had met him when I was 11 and he started laughing. I was delighted to see he looked like he was in really good health. He was very nice to me and he made everyone laugh."
Mr Howard was also thrilled to be able to watch hundreds of young people receive their Gold Duke of Edinburgh Awards. He said: "It was wonderful; they have worked so hard and its great to see that commitment appreciated. There are not very many perks in my public life but this was one of them."