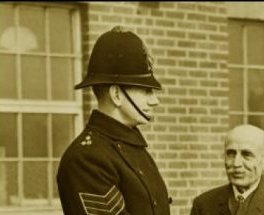 Sgt "Tiny" Howes has been featured on the archive before but at that time we did not know a lot about him other than he was extremely tall and he was awarded the BEM due to his efforts during the flood of '53.
We now have a copy of his police records which answers a lot of our questions.
William Edward Howes was born in Witham in 1907 to Edward and his wife Laura. At the age of 18 he joined the army where served for three years leaving in 1928. He immediately became a probationary PC with his appointment being confirmed a year later. His records do not tell us where he was stationed but at least in the early years he seems to have been based in or around Chelmsford. He married his wife Madge in Chelmsford in 1932 and they are in police accommodation in Chelmsford the 1939 register.
We know he was on Canvey during the flood and he retired in 1959. From his records the last posting would appear to cover the years 1951-59 which would suggest these were the years he was station on Canvey. He was made a Sgt in 1946. The following quote is from the Police Museum, Chelmsford.
…..posted to Chelmsford, Boreham and Saffron Walden, before being posted to Canvey Island 1st March 1951, from where he retired on completion of his service on 8th August 1959.
His records show commendations from the Chief Constable one was during the war – for marked ability and zeal in connection with the organisation and training of the Civil Defence Wardens and as bomb reconnaissance officer.
Another in 1954 was from the Justices but endorsed by his Chief Constable – for his plucky and resourceful conduct in dealing with a disturbance between two gangs of youths on Canvey on the night of 11th October.
The most important one was for the flood at Canvey in 1953. The commendation states – outstanding good works in organising the rescue and care of those affected by the flood disaster. This was further endorsed by the Queen awarding him a BEM for good service during the floods.
He was mentioned in the flood memories of Police Sgt Arthur Norris who said:
The sergeant at Canvey was 'Tiny' Howes.  He was the only one.  He was extremely tall and as I recall the only police officer recognised with an award.  The newspaper 'photo showed him wading chest high in water but failed to mention the others with him who were completely covered with water.  He was so tall he never looked round a door but over the top.
This we can confirmed by the photo we have of him being presented to the Lord Mayor of London Sir Rupert De La Bere by Councillor Pickett and also on his service records it states he was 6ft 7inches tall.
He must surely be remembered on the Island you would not be able to miss him.  He died in 1982.