Labour man resigns in Canvey row
Essex Chronicle 1949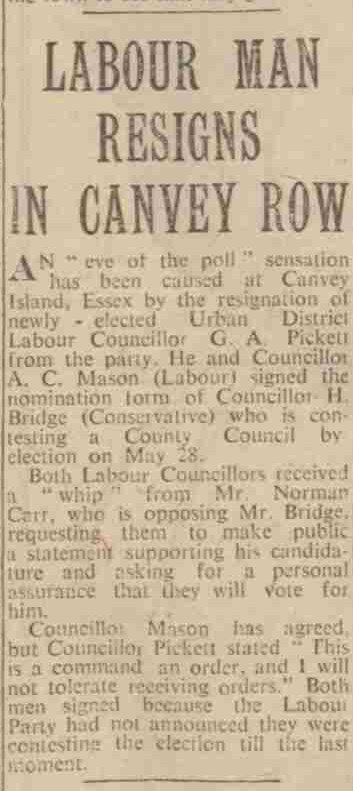 An 'eve of the poll' sensation has been caused at Canvey Island, Essex by the resignation of newly – elected Urban District Labour Councillor G A Pickett from the party. He and Councillor A. C. Mason (Labour) signed the nomination form of Councillor H. Bridge (Conservative) who is contesting a County Council by election on May 28.
Both Labour Councillors received "whip"' from Mr. Norman Carr, who is opposing Mr. Bridge, requesting them to make public a statement supporting his candidature and asking for a personal assurance that they will vote for him.
Councillor Mason has agreed, but Councillor Pickett stated "This is a command an order, and I will not tolerate receiving orders." Both men signed because the Labour party had not announced they were contesting the election till the last moment.