National Savings 50th Anniversary 1916-1966
Canvey Flies the Savings Flag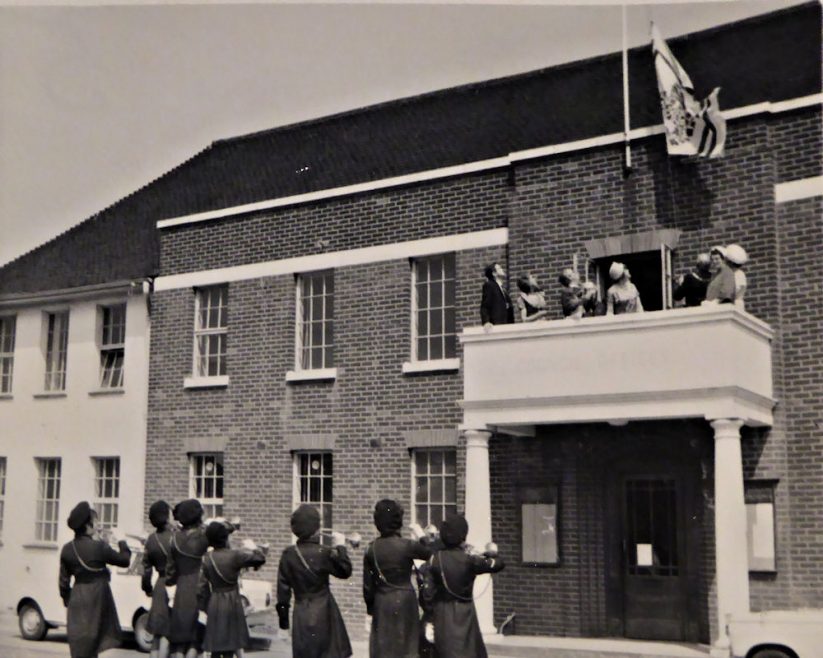 To a fanfare of trumpets a national savings flag was hoisted on Canvey Council Offices' flagstaff by Councillor George A Pickett, J.P., Chairman and "father" of Canvey Council. The event, on Saturday, was part of local celebrations of the 50th anniversary of the 50th Anniverary of the National Savings Movement.
It was preceded by celebra­tions at Canvey's main post office in Furtherwick Road. Before a large crowd of island residents and visitors, Mrs. Marie Kiln, chairman of Canvey Local Savings Committee, intro­duced Mr. Pickett who gave a masterly summing up of the movement and the many forms of savings facilities it provides.
He concluded by paying warm tribute to the band of the 2nd Canvey Girl's Brigade who had played before the ceremony and later whose trumpets heralded the new flag as it broke at the masthead.
To the applause of those assembled Mr. F. Spark, Canvey's Postmaster handed over the flag to Mr. Pickett and it was promptly displayed to the admiring crowd. Special display then Mr. Pickett went into the post office and bought a Savings certificate. Among those present at both ceremonies were Mrs. D. M. Mccave, junior, treasurer; Mr. H. Sharpies, secretary; Miss Capser (publicity); Mr. E. Porter (head postmaster, Southend) and Mrs. Porter, Mrs. M. Spark, Mrs. R. Thurston, Mr. J. J. Pam, district commissioner and others. During the savings week there is a special display in Canvey Post Office.