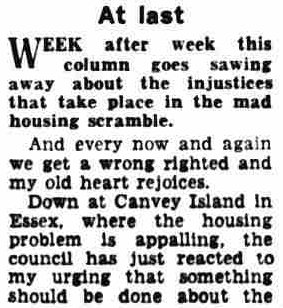 Week after week this column goes sawing away about the injustices that take place in the mad housing scramble.
And every now and again we get a wrong righted and my old heart rejoices.
Down at Canvey Island in Essex, where the housing problem is appalling, the council has just reacted to my urging that something should be done about the empty flats in Seaview Court. There are 20 of them and 18 have been unoccupied for six years. Yet their owner, Colonel Horace Fielder, a former chairman of the council, declared that they were neither available for letting nor selling.
I called it "a strange waste of housing" and the council seems to have agreed. It is now buying Seaview Court from Colonel Fielder and intends to use the flats for families on the housing list. There is only one fly in this splendid ointment.
This column called atten­tion to the empty flats in April last year.
Does it really need 18 months for a council to tackle and solve such a ridi­culous problem?