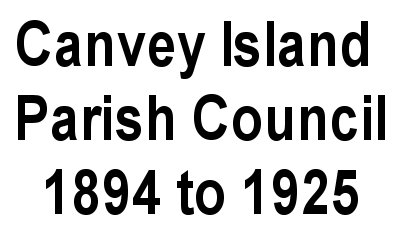 Prior to its inception as an Urban District Canvey Island had its own Parish Council, in its own right as a parish of the Rochford Rural District Council; the first meeting of the Canvey Island Parish Council being held on 18 December, 1894, with five parish councillors, namely, Charles Beckwith, James Sash, Rev. Henry Hayes, William Smith and James Cass, all having been elected at a Parish Meeting in the school room on the 4 December, 1894. The first Parish Clerk was Mr. C. E. Judd.
From a study of the early records, the Parish Council apparent­ly concerned itself with such matters as the state of a public well, the possibility of a water supply, public recreation ground, tele­graphic communications with the mainland, footpath, ditches, ed­ucational matters, the provision of a ferry, public lamps, flooding, the sea wall, allotments and the possibility of a bridge linking Canvey Island with the mainland. Perhaps the greatest contro­versy, and possibly their greatest achievement, was the provision of a new school. In 1894 the only educational establishment was a parish school which was a timber framed building opposite St. Katherine's Church. This building later became the parish hall and is now demolished and is the site of Village Hall Close. On 1 May, 1922, the Parish Meeting considered the question of a site for a new school for Canvey Island, and Mr. George Chambers who was then the Chairman of the Parish Council together with Rev. Green and some 50 residents held a special meeting under the chairmanship of Rev. Green and Mr. Chambers offered to give a site for a central school, either Little Gypps North or Little Gypps South upon the condition that the Education Authority built the school within one year. The meeting chose Little Gypps North on the grounds that this was the most central. The school was eventually built in 1925 to house 200 to 300 pupils, and was later known as the Long Road Council School, and subsequently the William Read School. This building has in recent years been demolished and the site redeveloped with the William Read Jun­ior and Infants Schools.
Joseph Hills, Parish Clerk, 1894-1902
First councillors were:
William Smith
James Cass
Later members:
George Chambers Chair Parish Council 1924.
Quoting from 'Urban District of Canvey Island 1926-1974 Official Guide'.