The Canvey Crest - Ex Mare Dei Gratia
written by Doris Flaherty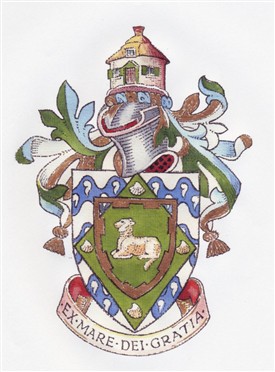 From the Sea, By the grace of God.
The history of Canvey is depicted in this Crest.  A history that goes back to the Roman occupation.  The Roman Helmet which supports the Dutch Cottage is symbolic of this.  The white flecks in the sea, depict the salt making industry that existed at that time.  The earth at the Point and at Thorney Bay is still hard and burnt and is still known as the Red hills of Canvey.  Should you go down on the mud at the Point and prod about you could strike something hard, which could be a piece of Roman pottery.  I have several pieces and they are identical to some found on Hadrian's Wall.  Also on the crest are oyster shells.  Oysters were in plenty, and were the staple diet of the population.  At one time the foreshore was littered with them.  Whitstable is still famous for its oysters as is Maldon and Colchester.  Also on the crest is a sheep of an unusual kind, long bushy tails.  Sheep rearing was the main means of livelihood.  Cheese was made from the ewe's milk and the word WYK that is found in so many place names, indicates that cheese was made there.  The crest is surrounded by the sea wall and its 7 large gates.
Local builders made several attempts to build a sea defence wall, without success.  Traces of it can be seen on the foreshore.  In the mid 1600's the Dutch were invited to come and build a sea wall.  For their trouble they were allocated a plot of land, hence the Dutch Cottage and place names.  It was early 1920 that people began to look upon Canvey as a holiday resort.  Plots of land 15'x60′ were sold for about £10 upon which a timber framed bungalow would be built.  Working class people, mostly Londoners, invested in a plot, which became a holiday home and investment by letting to holidaymakers in high summer.