Escape to England, not once but twice, to spend over 30 years as a Canvey GP
Dr Karel Machacek's extraordinary journey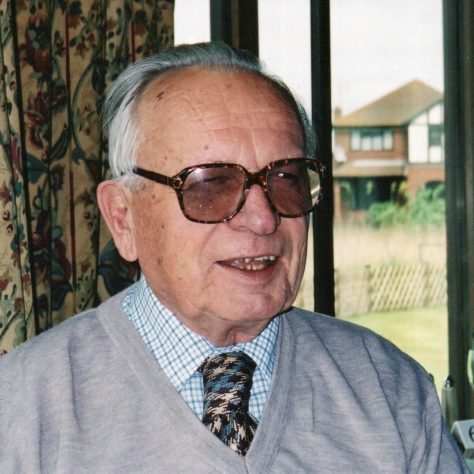 To be forced to leave one's native country once must be distressing enough but to have to flee a second time must surely be heartbreaking.  Yet that is exactly what Dr. Karel Machacek, who became a well respected and fondly remembered doctor on CanveyIsland, had to endure.  The first time he was escaping brutal Nazis who had invaded Czechoslovakia and the second time he was running from an oppressive communist regime.
Decades later, when in retirement, Dr Machacek was eventually reunited with his homeland and finally recognised for his life's achievements including his efforts to create an international student movement.  Yet the man who, in his seventies, addressed not only the president of the Czech Republic but also the President of the United States, had spent almost half his life quietly serving the community of Canvey Island.
He wrote of England in 1988; "I came as a fugitive from a foreign land to a new country, new environment and a new community of people with whom I have shared, over many years, common interests and aspirations.  I have acquired their identity.  Their ideals are my ideals, their desires my desires, their loyalties became my loyalties and their passionate love of freedom has always been mine as well.  I became called 'one of us' – and very proud of it."
His story begins a long way from England on 11 January 1916, born into what was then the Austro-Hungarian Empire, although his home was to become part of Czechoslovakia which was established in 1918 after the First World War.  The son of a railway stationmaster he spent his first few years in a station house in Hradek Slavicin.  At four his family moved to another station house at Vlkos Kelcany near Kyjov where he went to grammar school.
Physical training was not an important part of the school syllabus and so as a lad he became involved with the Sokol movement which was a youth group originally formed in Prague to focus on physical training as well as patriotic and democratic ideals. Sokol doctrine would not tolerate any political oppression whether fascist of communist and, as a relatively young country, becoming a Czech patriot was important to young and old alike. Those principles shaped Karel's life.
On achieving his 'Certificate of Maturity' at the age of 18, he nearly went into the army but he had a deep interest in medicine and it was agreed with his parents that he would go to university and so he signed on at the Faculty of Medicine. His studies included time spent in local hospitals to gain practical experience.
During this period he became deeply involved with student politics and organisations. He was an active member of both the Academic Club in Kyjov and the Student Union, becoming President of the Academic Club in Kyjov and the Association of Academic Clubs as well as Vice President of the Union of Students.
However, a looming World War was about to deliver an abrupt halt to Karel's studies. The German annexation of Czechoslovakia's northern and western border regions in 1938 was soon followed by a full invasion.
Initially lectures and exams proceeded normally under the Nazis. However on 28 October 1939, when the Czechs had traditionally celebrate Independence Day and Remembrance Day, many took to the streets but the occupying Germans were quick to react.  Many students from the Medical Faculty of Prague were involved and a student, Jan Opletal, was shot and died from wounds.
On 15th November his body was to be transported from Prague to his home but the funeral procession consisted of thousands of students, who turned it into an anti-Nazi demonstration. It resulted in ruthless action by the Nazis. On 17 November Karel and his fellow students woke to find their colleges surrounded by troops. Rooms were searched for subversive material and more than 1,200 students were arrested and sent to concentration camps. Nine student leaders, three of whom were friends of Karel, were executed without trial.
Karel narrowly evaded arrest that day and along with his medic friend, Jan Kudrna, he fled the country escaping through Slovakia, Yugoslavia, Greece, Turkey and into Syria (a French territory) where he caught up with the French Foreign Legion. He was quickly transported to France, reaching Marsielle on 3 February in 1940 before reaching the Czech army depot at Agde. There he trained as a soldier although with his medical knowledge he soon became an auxiliary medic. The Czech unit was sent to reinforce the 23rd and 239 French Divisions in an effort to stop the German advance on the Loire. The defensive line collapsed and France was overrun.
Fortunately for Karel he was evacuated with other Czech troops to England, landing in Liverpool on 7 July 1940.  The Czechs were camped at Cholmondeley Park in Cheshire, and Karel with friend Jan Kudrna, were part of the brigade's medical centre. There he met a number of former Czech students including Premek Sonnek, who, years later, was to join Karel on CanveyIsland.
Having established contact with colleagues in various student associations they founded the Central Union of Czechoslovak students. As part of this group Karel was instrumental in establishing the International Union of Students, where he was Vice President, and was part of the small group whose efforts resulted in the declaration in 1941 of 17 November as International Students' Day to commemorate the events in Prague.
He also played a central role in enabling Czech medical students to complete their studies in England. His view was that 40 qualified army doctors would be more use to the war effort than 40 riflemen and enlisted the help of President Benes to convince the English authorities to allow the men to complete their training. He went to study in Sheffield from 1941 to 43 and it was during this time that he met Betty Mond who was to become his wife in 1944 and later bear him three sons, Jim, Karel and Tony.
As a qualified army doctor he was posted to Dovercourt with a company of sappers who were clearing mines of Frinton beach which had been laid when England was under threat of invasion. After three months with the sappers he went to an officers training centre at Walton on the Naze before being posted to the Czech Military Hospital which was occupying an old wing of Hammersmith Hospital.
He was diverted briefly into the Czech ministries to be part of the UN's Relief and Rehabilitation Administration programme but this civilian position was not to his taste and he was soon on the move, this time to the RAF as a flying officer. He was appointed adjutant to Wing Commander Dr Bergman who was the principal medical officer for the Czech section of the RAF. He was posted to No 311 (Czecholslovak) Squadron and spent time in Scotland, Midlands, Torquay and Farnborough.
He even had a trip down to Southend on Sea where he was to inoculate some Czech officers who were on their way to the Russian Front. On the train journey from Fenchurch he recalls passing Canvey Island for the first time. He recalled thinking that "This is the last place in the world I would want to live" and yet six years later it was to be his home that he never wanted to leave.
After the war Karel returned to his homeland with his new wife to discover with huge relief that his family had survived the war and he settled down in Prague to continue his work as a doctor in the Czech Air Force. This was destined to be a short lived visit.
After the communist coup on 25 February 1948, western trained officers were soon persecuted by the new administration. It was time to flee his homeland for the second time and head to England. In April he put his wife and son Jim, who was two and a half, on a plane to England. They were both English nationals and so it was not a huge problem for them to go but he had to leave by the 'back door'. He escaped by crossing the border at the Bohemian Forest and managed to get into the American Zone of West Germany where he had to wait several weeks before he could be reunited with his family in England on 28 June 1948. He was soon back in Sheffield.
Whilst there he was in contact with old friends Jiri Lintner and his wife Edith (whose parents lived in Leigh on Sea) and Premek and Anka Sonnek. In the spring of 1951 Jiri, who had established a GP practice at Furtherwick Road, asked Karel to join him. Rural Canvey with its beach appealed to Karel and Betty and they moved to a new bungalow build by Fred Fisk in Marine Approach. Jim and Karel junior went to Alleyn Court School.
Two years later they, in common with so many other people, were woke by a neighbour as waters flooded onto the Island. The road and turned into a river and Karel later recalled his indecision on whether to try and reach higher ground or stay put in the bungalow. Betty was for staying put and so they did.
In the wake of the emergency, Karel and Jiri established a surgery in a classroom of the new school that had been built in Shipwrights Drive where many of the evacuees were stationed. Sadly many of the 58 who had perished that dreadful night had been the practice's patients.
As life returned to normal the Sonneks also came to the Island and Premek joined the practice. In 1956, Karel and his family moved to the "house of their dreams", Dalehurst, which was on the corner of Marine Approach and Furtherwick which he purchased from Fred Fisk. As Karel himself put it; "Life settled into a routine of surgery, home, school and holidays.  The years flew by."
Bernard Braine, long standing MP, wrote of the three Czech doctors "More than most I can testify to the skill and dedication they brought to the care of their patients and the affection they evoked from all who were privileged to know them. Truly, each became 'one of us'.
Certainly Dr Karel Machacek was well thought of within the community. Joan Liddiard, a lifelong resident of the Island who became the first woman chairman of Canvey Town Council, recalls how on the birth of her second son, the doctor said he could see that she needed some real help at home. This was long before paternity leave had been heard of and so the sympathetic doctor turned to Joan's husband and said, I can see you have a bad back and so I will have to sign you off work for two weeks. It is a small, perhaps commonplace, story that illustrates a caring approach he had in an era when GPs were really working as part of the community.
By the time he retired in 1983 the partnership had grown to nine doctors. His two early colleagues, Jiri and Premek, also retired around that date. Jiri went to live in Dorset but Karel and Premek remained neighbours on Canvey Island where they were "Surrounded by a circle of superb friends and a community of people of which we have become part. Their smiles and their greetings make us feel that our lives have not been entirely in vain."
Karel published his autobiography in 1988, titled 'Escape to England' but within a year he was destined to re-establish a close relationship with his homeland.
The trigger was the Velvet Revolution in 1989.  Demonstrations by students and older dissidents in Prague on 17 November, International Students Day, sparked a series of demonstrations, part of wider upheaval in eastern European upheaval, which brought an end to over forty years of communist rule.
Our former Island GP was soon in contact with the revolutionary committee of Prague students and by 1990 events had moved on to the extent that he was invited to speak at Wenceslas Square to a huge crowd in the presence of Vaclav Havel, then president of Czechoslovakia, and US President George Bush senior.
He was later invited to lecture at the Medical Faculty of Charles University in Prague and other speaking engagements including a speech on behalf of military doctors during the 70th anniversary of the founding of the Medical Academy in Hradec Kralove. His home village of Vlkos awarded him honorary citizenship as did Kyjov where he was a student.
He was awarded a number of British and Czechoslovak military and academic distinctions throughout his life but the final accolade came in 2002 when he was proclaimed Knight of the Czech Medical Guild in a ceremony held in Prague castle in the presence of his wife and three sons along with his sister Vlasta.
He died 4 July 2005, aged 89.