The Canvey Supply Company
Fred McCave's article in the Bulletin 1980
From Fred McCave's Canvey Pioneers series………………….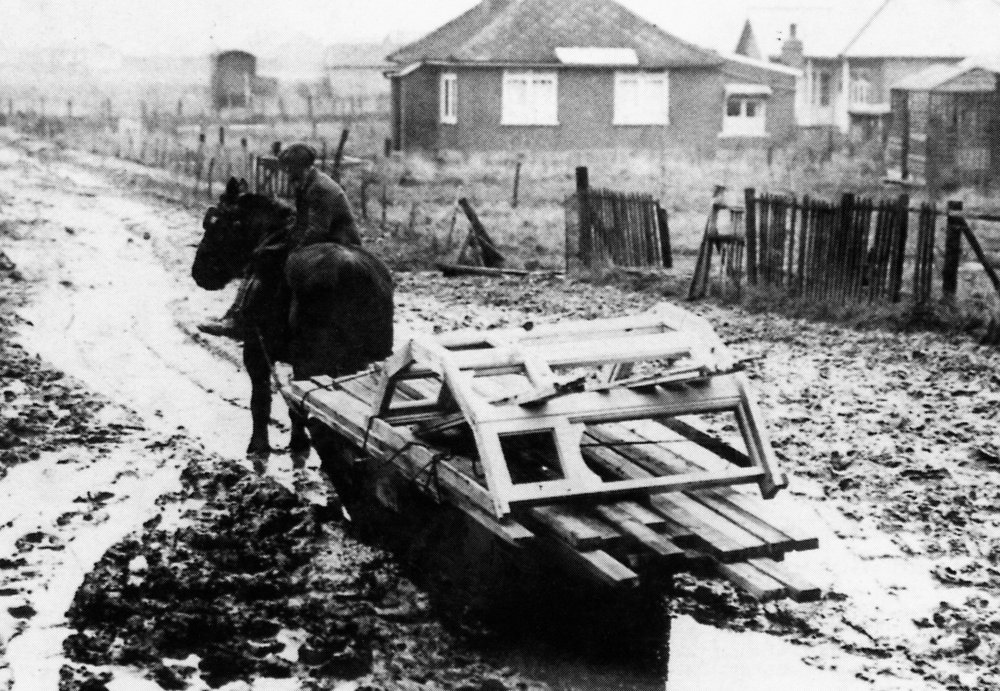 The Canvey Supply Co. Ltd. which has just celebrated its Diamond anniversary.
It was commenced 60 years ago and through the years it has led the Island's building development. The directors have seen boom times, and slack periods, A war, the 1953 East Coast flood which hit Canvey badly, the great housing growth after, and much else. The firm too had setbacks, which have been triumphantly overcome.
A fitting celebration was their anniversary dinner when the propietors paid warm tribute to their staff, and their employees,  of what is truly a family firm, also expressed their thanks.
Now, let us look at the saga of development. The firm was started on December 24,  1919 by the late Mr. E. E. O. Lawrence and others. In the years before the war Canvey Island was developed quite rapidly and the firm was very busy supplying much of the material and timber for the construction of about 1,500 houses and bungalows, (population 3,000).
Most of the roads were unmade and deliveries were done by horses with carts fitted with runners instead of wheels. A wharf was built for the unloading of Thames barges and most of the cement,  timber,  and ballast was bought to Canvey by barge in the early days.
During the war,  the firm temporarily merged with a firm of civil engineers. Thousands of concrete domestic air-raid shelters were prefabricated and installed. Defence installations were built round various parts of the coast including the anti-tank defences along Southend sea front.
After the war Mr. Lawrence's sons, John and Tom, joined the firm and today are joint managing directors, Mrs. V. E. Lawrence is the third director. In the late forties and early fifties business was fairly quite. The private building allocation for Canvey was four houses per year. Nearly all materials were only sold against licences issued by various government ministries. The main depot was destroyed by fire in 1957 but the office building survived.
Since the early 1970's the premises have been rebuilt and considerably enlarged, in line with the general development of Canvey, which has seen quite a boom in the building of new houses. Population is now about 35,000. The construction of new access roads to Canvey has considerably increased the delivery area with daily deliveries now made to all parts of Southern Essex.
The longest serving employee is John Shearman who started with the firm in 1937 as a driver's mate at the age of 14 years. He is now the yard manager. The present number of employees is 65.
~~~~~~~~~~~~~~~~~~~~~~~~~~~
2011 and the Company is now approaching 92 years supplying building material to the people of Canvey.