Not so much a story -More a way of life
Animals in the news
This amusing article was written by Fred McCave and published in his 'Bulletin' in 1981
~~~~~~~~~~~~~~~~~~~~~~~~~~~~~~~~~~~~~~
Animals always seem to make news. From the local champion who hits the top class at Crufts to the humble cat who gets stuck up a tree. All have their place in things. Living and working in a country cum small town one meets various facets of the non-human life. One must qualify this, of course, for many of their owners maintain that they are human.
Dogs. Well of course I have met them story-wise and also red in tooth and claw. On occasions I have distributed my newspaper from door to door. One of my more vivid memories is literally being grabbed by two dogs, one on each arm. As I tried frantically to disengage myself a lady called them off and to my humiliation tickled their tummies. Another pet I have met in nearby Southend can constantly be seen in York Road – with a pipe in its mouth. Minus of course tobacco. I have recorded stories of dogs being found swimming in creeks or being rescued from the marshland. Occasionally cruel owners abandon puppies on the beach. A quick call to the R.S.P.C.A and all is well.
Foxes are a constant visitor now, especially as their wild haunts become developable and bricks and mortar block their lairs. I've heard dog foxes bark round the houses (Some experts try and assure me that it is not possible to distinguish between the dog and the vixen). A lot of nonsense is talked about fox hunting. I go along with the idea that it is the finest way of keeping them down. Shooting them is dangerous and oftes worse for the fox who may die a lingering death from a wound. Fox hunting is the ideal way of dealing with them and it is a pity some members of the hunt adopt a defensive attitude to criticism. One unusual instance of them came to my attention when a litter of cubs was found under the floorboards of a bungalow. They were removed to a reserve.
Cats have an unusual habit of suddenly leaving home and returning months later or of treking for miles to a former residence. Self contained they never seem to become part and parcel of the dwelling, always slightly aloof.
A reporter soon learns the value of the unusual in pets – birds, goldfish, hamsters, guinea pigs they have a tendency to turn up at least in one place – the columns of a local newspaper.
The minah bird who frightens away intruders, budgies who fly away but are returned because they can say their owner's name and address, the exploits of pigeons – all appear time and again. I remember that at one bird show one of them was being given as a raffle prize. Before the winning number could be drawn the bird decamped. Great indignation was caused when some papers (fortunately not mine) recorded a prize bird had flown.
And down on the farm. Even in this permissive day and age eyebrows have tended to rise when I have boasted "I spent an afternoon with Trudy – the dirtiest cow on the Island". It was completely true, Trudy, a four legged cow, had got stuck in a thick, muddy ditch. Finally the gallant efforts of our then part-time firemen got her out. She needed gallons of detergents to be used to restore her to her former cow-like condition.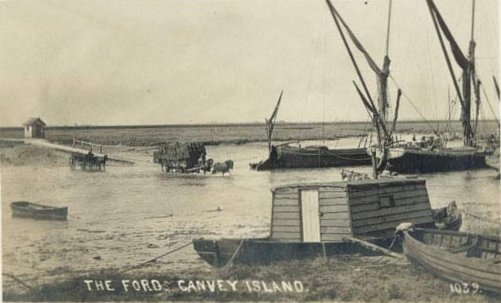 Horses, too, have a tendency to make for ditches and lakes. Before Canvey had its first bridge to the mainland unfortunate animals were swept away in the tidal creek separating England from our island. I must point out that this was chiefly due to their drivers, who usually escaped. This is not true of The Lake which is still reputed to be haunted by a driver and his horse who went into it and died in its bottomless depths. (Although it gets a thin, hard clay crust during dry periods would-be excavators are advised not to penetrate the top layer lest they suffer a like fate).
One of my earliest memories is a horse with a laden coal cart getting stuck – again in a dyke. No fire brigade then so everybody turned to and succeeded in getting the poor beast out. That was in the days when they were a common sight, decked out with their real brasses. Not the imitation rubbish that can be seen in too many shops these days.
My late mother, who worked on Claydon's Farm before and after World War 1 used to tell of a demobbed horse. It had been on active service and Captain, like too many of his human counter-parts suffered from shell shock after the terrible ordeals he had been through. Periodically he would suddenly and literally go crazy, rushing round the fields. Sometimes I think of those who were not 'killed in action' but returned to the green fields. What could they have made of it all? Did they ever have nightmares that they were under fire again or dream of the men who had cared for them? The motto of all first class regiments when coming out of action was to care "first of all for the horses, then the men, and then the officers". At least in later conflicts so many animals did not suffer.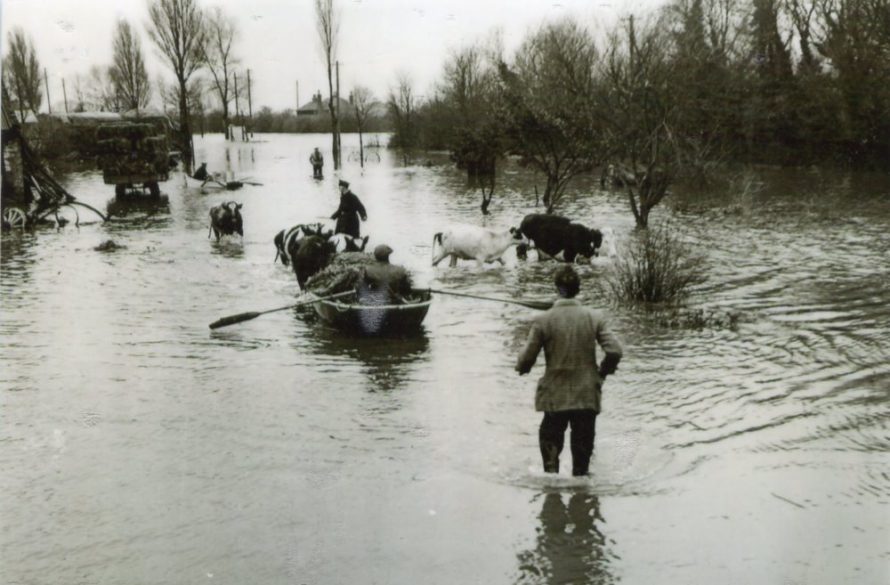 Sheep worrying was a problem when we were a more agricultural district and there were cases of dogs driving them into ditches and causing them to be suffocated. I suppose it all started as an innocent game but the dogs got carried away when the sheep fled before their menacing barks. It got so serious at one stage that a farmer would shoot (to kill) any dog seen anywhere near his flocks. The sheep – and cattle – also had a tendency to wander on to the marshes and farmers' labourers turned into impromptu lifeboat-men to rescue them. In the 1953 floods they took shelter on the highest ground they could find and here the inland Roman red hills came in useful. In the days of the occupation (never conquest or why Hadrian's Wall?) they extracted salt by evaporation and the resulting mounds, later used by mediaeval shepherds again fulfilled the life saving purpose.
The more humble forms of animal life have also been the source of an interesting and/or amusing paragraph. Chickens with amazing proflicity or providing double-yoked eggs, a missing tortoise or two, or in the scout Bob-A-Job, days one being employed as a tortoise minder. Geese, often described to me as the finest watchdogs. Sparrows, one picked up a lighted cigarette end, flew off to its nest and promptly set fire to a building. Putting the story over to a national newspaper I had to convince them I wasn't some kind of nut when I started off by saying "A bird smoking in bed caused a fire……………..".
I have left to last those great regal birds – the swans. They have been known to fight to protect their own particular piece of water. Sometimes they have unfortunately crashed into cables and had to be restored by the excellent work of the R.S.P.C.A. Regretfully I have had to record the work of vandals who have wantonly broken or stolen their eggs. To see a pair of swans on a mere, gliding up and down, is a wonderful sight. Near Maldon I have seen flocks of them on a tidal river and in upper (tidal) reaches of the River Thames. When they have their young it is a proud sight to see cob, pen and cygnets majestically proceeding.
Such is the animal life of a local newspaper reporter. Varied, sometimes funny, sometimes tragic but overall presenting an unusual and varied panorama of natural life. A consoling thought, they don't write in indignant letters saying they have been misquoted or misrepresented. Sometimes their owners redress the balance forcefully.