Castleview, Jaarsburg Avenue
Matthias and Sophia Bragg's home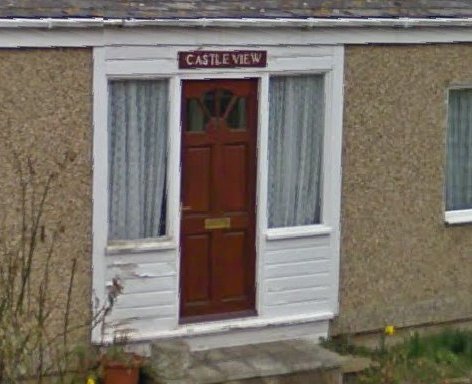 Castleview in Tewkes Road (formally Jaarsburg/Jarlsberg Avenue) was a typical old Canvey bungalow. Timber built with outside stairs to the loft. Probably built in the 1920s (to be confirmed) but now sadly demolished.
We are looking at the bungalow because it belonged to a friend, the late Margaret Payne. It was the home of her grandparents Matthias and Sophia Bragg. Matthias and Sophia were both born in Bethnal Green but settled in Edmonton with their family and Margaret was born there.
We are not sure when they purchased the property as a holiday home but we know Margaret was on the island from an early age which would put it at approx the 1930s. They are not listed in the 1929 electoral register.  But they are in the 1939 register (see photo). We have photos of Margaret at her May Avenue home when she was about 5. The bungalow meant a lot to Margaret and she kept it alive long after their deaths in 1963 and 1957. It was full of surprises and lots of her husband's paintings.
When we were part of Lucy Harrison's Canvey Guides Art Project we would often end up at Castleview where Margaret would have a fire going and hot drinks and cake. See Dave Bullocks photos in the gallery below for an insight into the treasure trove that was Castleview.
Unfortunately the bungalow has now been replaced by houses or are they flats? Such a shame.
Below you can read a story written by Margaret about Castleview for Lucy's Guide Project.
The View to Leigh by Margaret Payne
I've been asked to remember bits of my past when I half lived on Canvey and half lived in London but came every weekend and every summer holidays to Canvey, to stay with my grandparents. I lived in May Avenue and I still live there in the same bungalow and my chosen location is the view from Canvey Heights towards Benfleet and then east to Southend because I remember when none of the present development was there and it was just fields and cows. What I remember most about where I used to stay, at Grandma's, was that it was very rural, and very basic. There was an outside toilet which had to be emptied every day. My granddad was absolutely assiduous in making sure that we didn't go out at that time, and it was taken to the top of the garden behind the roses, I believe, and I stayed for most of the summer holidays even when I was about eighteen, with my grandparents.
The road at that time was not called Tewkes Road, as it is now, but was Jarlsberg Avenue, which was a very old Dutch name as Hester had named it, and their bungalow was wooden, it was charming basic, and always seemed to-be sunny. And their wooden bungalow had an upstairs and it was reached by an outside staircase, which had a safety handrail and at the top it became a little balcony, and from there I would be able to look out with no gaps, without anything to stop the view, straight from my grandma's upstairs balcony, across the sea wall which was much lower than it is now, to Leigh and Hadleigh Castle. And running along the base of Hadleigh Castle was the railway line that went from Southend, to Benfleet and up to London, and my boyfriend lived at Leigh, and so when we made an arrangement to meet I would stand and watch the train from Leigh, past Hadleigh Castle, and I would be on the balcony, and watching it draw in, to Benfleet station, and thinking, ooh he'll be here soon, he'll be here soon, and feeling somewhat romantic about it all, and I can always remember afterwards, looking back on that and thinking, I wish I had shown to him the excitement that I felt, because I don't think I ever told anybody until now, the sort of 'Ooh lovely, he's coming' sort of feeling.
Margaret's story  published with permission of Lucy Harrison –  Canvey Guides 2007.