G.Prout & Sons LTD:
Price lists, Folding boats & Canoes, Catamarans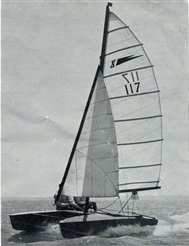 Craft built at the Point Road factory.
The picture on the right and featured in the leaflets in the gallery below is the Shearwater III Catamaran. The largest Catamaran Class in the world.
The leaflet goes on to say 'fastest light sailing class afloat today'.
'Kits Easy to build'.