Haunted Farmhouse
Essex Weekly News 1943
W. Davis wrote a letter to the Essex Weekly News in 1943 for information regarding the Haunted Farmhouse. He/She wrote:-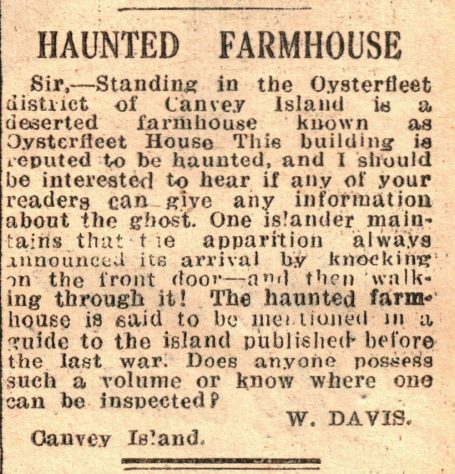 Sir, — Standing in the Oysterfleet district of Canvey Island is a deserted farmhouse known as Oysterfleet House. This building is reputed to bhe haunted and I should be interested to hear if any information about the ghost. One islander maintains that the apparition always announced its arrival by knocking on the front door – and then walking through it! The haunted farmhouse is said to be mentioned in a guide to the island published before the last war. Does anyone possess such a volumn or know where one can be inspected? W.Davis.
Well we are 72 years late but we have the answers to his questions on the archive.
The story of Oysterfleet farm haunting has been around since at least 1709. The guide he is talking about is Scott's Guide dated 1906. Both these and other stories about the haunting of Oysterfleet Farm can be read about here.