The Early Landowners of Southwick Farm
AKA Southwick marsh or Tree Farm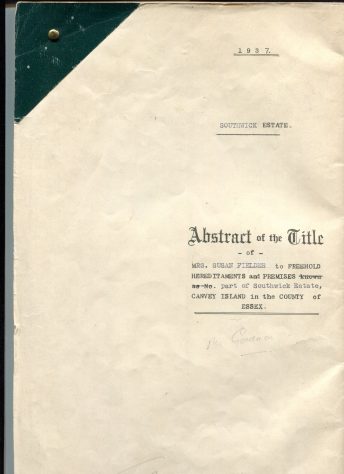 Not long ago I was sent a copy of an Abstract of the Title for 7 Southwick Road, a property in the Southwick Estate area. Details from the document, which is many pages long and much of it is in 19th century mind blowing legal jargon, shed a light on the ownership of Southwick Farm during a long period in the mid 19th century into the early 20th century.
Many headaches later I can confirm that in the 1860s the farm was part of the property belonging to Henry Nash Wood of Hadleigh Hall. Prior to this we have a map dated 1793 showing the farm, part of which was third acre land, as the property of Mrs Kersteman.  W Brewse Kersteman is mention in this document as the owner in 1836 who sold it to the Wood family. I have the will of Major William Brewse Kersteman of Somerset, who died in 1840. I have found his very long will but skimming through it I could not see anything noting Southwick or Canvey but it is several long pages of 19th Century legal jargon so I will leave that for another day. Let us just say the Wood family of Hadleigh obtained the property from the Kersteman family of Somerset in 1836. So Jonathan Wood seems to have taken possession in 1836 with a Henry Wood which could be his father who died in 1848. In Jonathan's will dated 1858 he specifically mentions Canvey Island and Southwick which he purchased from W. Brewse Kersteman as part of his personal estate. The farm was part of a trust that was set up following his death and his son Henry Nash Wood was one of the trustees. A portion of the real-estate was put up for auction and Henry Nash Wood was the highest bidder so purchased for the sum of £4,300.
Henry Nash Wood died in 1869, according to his will dated 1868 his wife Mary Ann was appointed as one of his trustees along with her brothers Alfred Tyrrell and Daniel Higgs Tyrell. Mary Ann takes us into the early 20th century. Both the Tyrrells died in the 1870s. The wife of Alfred, Louisa Ellen Tyrrell took over the trusteeship on his behalf.
Mary Ann Wood died in 1915 her will dated 1905 shows her son George Lionel Wood and daughter Ellen would be her Trustees. Louisa Tyrrell died in 1918.
Lots of dates, names and legal jargon later we find in 1925 that Henry Nash Wood's grandsons Lionel Dorrell Grayson and Lionel Tyrrell Wood are the trustees. The land was then sold to AM Clark. So after nearly 90 years the Wood family relinquished their ownership of Southwick Farm and the Trust that had governed the farm for so long.
During the coming years the land was sold off for building as this 'Abstract of the title' shows. Here a portion of the estate has been sold to Susan Fielder where four building plots are planned in Southwick Road. (See plan below)
All this to purchase some plots of building land. On the large map below it shows the Seven Acres of pasture that was sold to Susan Fielder. Numbered 282 on the map.
What came next for Southwick Farm?