Rev John Aubone Cook
1857 - 1859
Rev John Aubone Cook was the eldest son of Colonel John Cook (28th Light Dragoons) & his wife Elizabeth née Surtees. He was the vicar for St Benfleet from 1850 in addition in 1857 he became the incumbent of the small church on Canvey Island. There are a couple of very good articles about him on the Benfleet Community Archive.
The following is from Miss Henderson's diary which has been published on Benfleet Community Archive: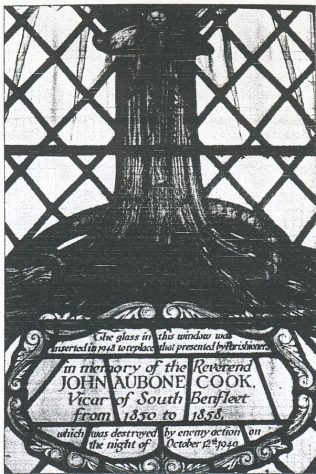 Another tragic result of the coming of the railway was the death of my father's predecessor, Rev. J.A. Cook, for it was while the men were working on the line that there was a terrible outbreak of cholera.  Village legend would have it that they unearthed a plague-pit in their digging which started the epidemic. Mr. Cook worked day and night, often single-handed, among the sick and dying; forty were buried in the churchyard. Coming home one night, he found a man dying in the road, for none would take him for fear of infection. He carried him to the Vicarage and nursed him back to health. He himself, two years later, contracted typhoid and was too weak from overwork to fight it; he was buried by the Church porch.
The following are extracts from an article on BCArchive
Cholera threatened Essex — and a parson became a hero
by H. E. Priestley
When the epidemic had run its course Mr. Cook continued his parochial work. In 1857 he became incumbent of the small church on Canvey, which he served in addition to his church in South Benfleet. Had he considered his own interest alone he would never have accepted this additional commitment, for he was already suffering from repeated attacks of malaria and neuralgia, which short periods of absence from the marshes relieved but did not cure.
The hot, dry summer of 1859 was followed by the usual round of marshland illnesses, diarrhoea, pains in the limbs and fever. The vicar's presence was requested everywhere, and his visits increased in number. On Saturday, September 10, he left home at midday for a round of visits on Canvey and was still on the island when darkness fell, having lost his way. He did not reach home until ten at night, ill and exhausted. In spite of this he was determined to face the next day's work, which included services at Benfleet, on Canvey and again at Benfleet in the evening…………………….
At that time the lovely medieval church porch at South Benfleet was falling into decay and the vestry was thinking of taking it down and replacing it with a new one of brick. Mr. Heygate, great friend of the deceased vicar and keen preservationist, persuaded them to restore this old porch, and to help with the expense he wrote a memoir of his friend, which was published in 1860 and which readily found sales in south-cast Essex. A very few copies remain in existence today……………
Cook had replaced Henry Robert Lloyd as vicar in 1850, coming from 12 years' service as curate of St Margaret's near the Houses of Parliament. There, in London in 1849, he had lived through one such epidemic already, visiting the sick and burying 50 people in one week. Fourteen thousand died during that outbreak.