John James Turnnidge
Servant to Rev Henry Hayes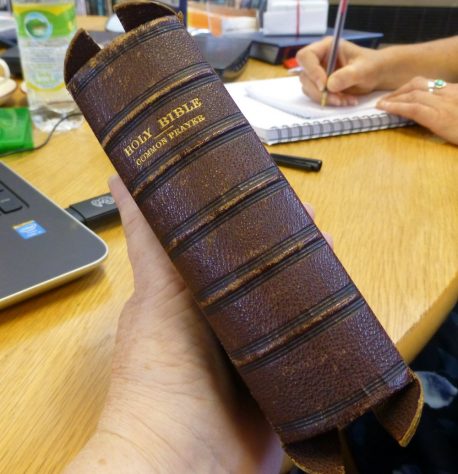 John James Turnnidge was born in Leigh in 1859 and came to Canvey Island sometime before 1879. He was at that time a servant of Rev Henry Hayes who presented him with a bible for his 21st birthday in October of 1879. His granddaughter, Janice, allowed us to photograph the bible and the inscription inside which reads –
James John Turnnidge
With the best wishes of his Pastor, Friend and Employer the Rev. Henry Hayes – on his attaining his 21st birthday. October 1879 Canvey Island.
He worked as Rev Hayes' servant and is recorded as such in the records, living at the Vicarage in the 1881 census. He married Katherine Merryfield Hodler at St Katherines on the 15 Apr 1884. The couple lived in the village but the records do not give any specific address except, cottage near church. Family knowledge however tells us that he lived in the Dutch Cottage in Haven Road.
The couple had at least seven children, three died at birth or soon after, a forth died young, all four buried in St Katherine's churchyard. Of the remaining three children Arthur, Horace and Kate Florence, we have a photo taken c1900 possibly taken in Haven Road.
By 1907 the family had moved to Southend as can be seen by the postcard in the gallery below that Arthur sent his mother when on a visit to Canvey, or perhaps he was still living here.