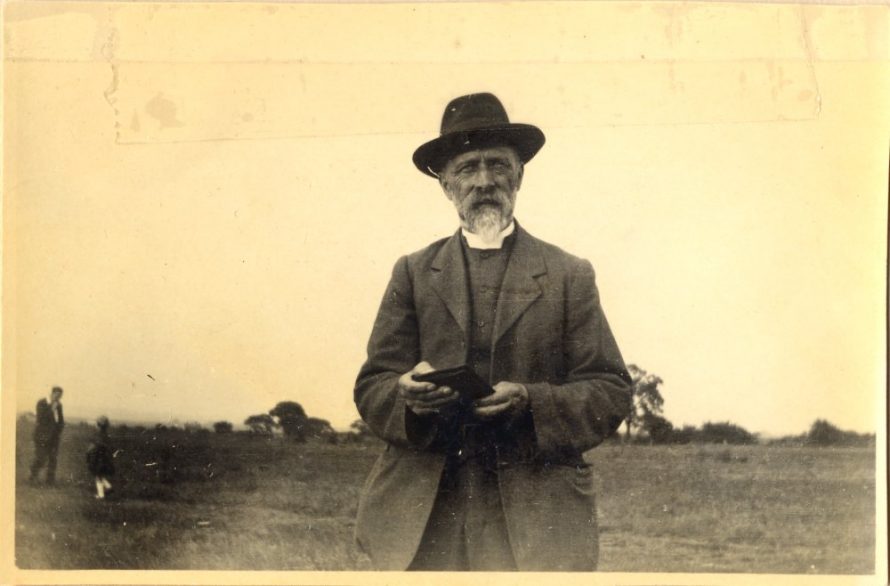 Edwin Green was born in Marylebone in 1861 to Edwin a bootmaker and his wife Elizabeth. He was brought up in Islington before attending the University of Durham. He had qualified as a teacher, becoming a priest in 1896 .
He was a Curate of St John's Walthamstow from 1895 – 1901 followed by Woodford 1901 – 1912 where he can be found in the 1911 census with his wife and sister-in-law at Glenholm Peel Road. He became the Vicar of All Saints Epping Upland from 1912 – 1919 followed by Canvey Island from 1919 – 1927.
Edwin had married his wife Caroline Edden at St Thomas' Church, Finsbury Park in 1904.
He died on the 19 April 1943 his residence at that time was 283 Westborough Road, Southend.
The following has been taken from Fred McCaves Book 'The History of Canvey Island'
'The Rev. Edwin Green became Vicar in 1919. In 1921 he lost his licensed lay reader, but was joined for a temporary period by one who had done good work as a Captain in the Church Army and had served in France. It was not only the church that had ex-service members. A jobbing gardener 'passed by Board of Agri­culture – speciality pruning' proudly described himself as an ex-sergeant.
Work was going on with the restoration of the Parish Church. The foundation had been rebuilt, the sanctuary floor re-laid and, by March, the interior was being repaired. Future plans included painting the church outside and repairing 'thoroughly' the roof.
Premises (later burnt down) became available for hire for 'concerts, public meetings, whist drives, beanfeasts, dances, school treats, etc'. The energetic Rev. Green had been joined by a temporary helper, the Rev. H A Powell, and he was to hold a series of spec­ial services in the building known as The Rendezvous, as would St Anne's Sunday School.
Canvey was attracting more distinguished visitors too. The Bishop of Barking paid his first visit on Sun­day, 24th July, 1921, when he preached at the Parish Church on behalf of the Church Missionary Society.
The Church of England Day School buildings were in bad repair in the summer of 1921. Remedial work would cost from £60 to £100. The school man­agers had promises of £45 'contingent upon the whole work being taken in hand' and there was a debt of £26 for repairs already done. In the past a voluntary rate had kept it going, but now few were able to respond to the managers' request. Instead they asked for a voluntary rate of threepence in the pound or for donations. In October the Vicar sounded a warning note in his parish magazine that "If Church people do not feel inclined to support their own schools, they must not feel aggrieved if the school is unable to be kept up and has to make way for a Council school". This, of course, was what would happen eventually, despite the efforts of all concerned.
In December, 1921, Mr & Mrs G Machin retired from the school; Mrs Robertson, who had worked as a nurse in Egypt in the war, came as Head Teacher.
Then came a threat to the Parish Church. The authorities suggested that it would be better to shut it up and build at the other end of the Island. But the Vicar said "It would be a pity to close it just now because it is not largely attended" and urged better support. A combined vestry and annual parochial church meeting on 19th April, 1922, unanimously said "In the opinion of this meeting it is inexpedient to transfer the Parish Church to a new site at the other end of the Island for two strong reasons: l) The hist­orical continuity would be broken 2) New develop­ments, such as making of sea wharves or docks may occur within a short time, rendering it necessary that St Katherine's should be a large and important church."
If church attendances were dropping, the school roll was not and, with an accommodation for 69, there were, on 20th June, 1922, 97 present out of 104.
By November, 1926, Rev Green was able to report the enlargement of St Anne's was progressing as £103 of the required £120 had been collected. However he wrote, "Could we not go further and line the church with proclite, instead of the present canvas and also repaint the woodwork and generally put the structure in good repair?"
There was a shock for his parishioners. In the December magazine, under the dateline 20th November, the Vicar sadly announced, "I regret to say that I am under doctor's orders to lessen my work. I have, therefore, placed my resignation in the hands of the Bishop of Chelmsford, believing that, in the best inter­ests of our large and continually increasing population, I am doing right in making way for a younger and more vigorous man." His resignation was dated to take effect in May, 1927.
It was typical of Rev Green that four days after penning this notice he should preside at a meeting in Canvey Hall to form a Canvey Troop of Baden-Powell Boy Scouts. The Scoutmaster was a well-known boy's author, Geoffrey Prout. And soon with the departure of Rev Green, another chapter in Canvey's development closed. Mr Green had had his triumphs with the improvements to his churches, the forming of organisations and the widening of horizons. Perhaps it was sad that the link between school and church had, to some extent, been broken by the establishment of a Council School. It did mean, though,  that  Canvey's  ever-increasing younger population would continue to receive an even better education and that provision could be made to give evening tuition for those who felt they had a need of it.'