Rev Edward Bonamy Dobrée
Vicar of Canvey in 1929-1935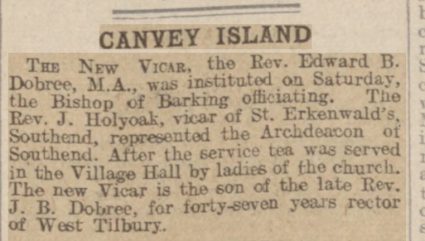 Edward Bonamy Dobree was born in 1873 in Tilbury but baptised in Suffolk. Son of Rev James Bonamy Dobree and Harriett nee Moor, James was the Rector of West Tilbury.
He married his wife Eleanor Mabel Moxon in Prescott, Lancashire in 1916 whilst he was a Curate at Christ Church, Eccleston, Lancashire before moving on to Curate of Preston & Chaplain of Preston University in 1916 where he stayed until 1920.
Several positions followed as Curate of St Saviour's, Brighton 1920 – 1922, Hale, Surrey 1922 – 1924 and All Saints Woodford Wells 1924 – 1928
Rev Edward Bonamy Dobrée became the Vicar of Canvey in 1929 being officially instituted in February 1929 as the cutting from the Chelmsford Chronicle shows.
Rev Dobrée comes from a Gentry family which can be traced back for hundreds of years to Guernsey in the Channel Islands and the family can be found in Burk's Peerage.
Edward Bonamy Dobrée's line follows younger sons and as normal in gentry families the eldest son inherits and the younger sons go into the clergy. Edward was the eldest son of James Bonamy Dobrée vicar of West Tilbury who was the youngest son of John Gale Dobrée vicar of Holton St Mary in Suffolk. John Gale Dobrée was the youngest son of Samuel Dobrée a Merchant in the city of London.
Samuel was born in Guersey in 1759 the second son of Peter Dobrée and Rachel Bonamy, which is where Rev Edward Bonamy Dobree gets his second name from. Peter's youngest daughter Elizabeth was born in England so this branch of the Dobrée family must have moved to England c1770.
Edward Bonamy Dobrée was educated at Cambridge University then followed his father into the clergy. As curate he spent several years moving around the country at one point he was Curate of Preston & Chaplain of Preston University. Then in 1929 he became Vicar of Canvey moving to Boreham in 1935.
He died in 1950 at Worthing when he left his effects to his widow.