Rev. Hubert Arthur Stanley Pink
Vicar of Canvey 1935-1938
Rev Hubert Arthur Stanley Pink was the Vicar of Canvey 1935-1938.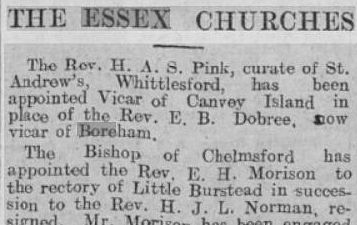 Not a lot is known about Rev Pink during his time as Canvey's Vicar. He was born in 1905 in Brockley, Kent to Rev. Arthur Penrhyn Stanley Pink and Edith Mary neé Sweeting. He was educated at Selwyn College, Cambridge. He was made a Deacon in 1928 then Priest in 1929. Before arriving to take up his post on Canvey he was based in Ipswich as a Curate of St Augustine of Hippo, Assistant Mastre Ipswich School and Chaplain Ipswich School. He was then Curate of St Andrews, Whittlesford until 1935.
His Uncle was English Cricketer Hubert Pink whom during World War I was a 2nd Lieutenant (acting Captain) in the Sherwood Foresters. In 1919 he was awarded the Military Cross.
It is after he left Canvey,  that we came across a photo of him from a newspaper clipping (Possibly late 60s-early 70s ) where it is stated :-
A new group called the Pussyfoot dropped into the chart with 'Freeloader' last week-and the first to congratulate them was an archdeachon!
Not surprising really, because the Venerable Hubert Pink, Archdeachon of Hampsmith, London, first started the five boys on the route to success.
Three of them were choirboys when Mr Pink was Rector of Hackney, London, five years ago. When they formed an amateur group he loaned them a church room to practise in.
He retired in 1974 and died in 1976.