Canvey Vicar Killed Himself
A Sorry Affair, says Coroner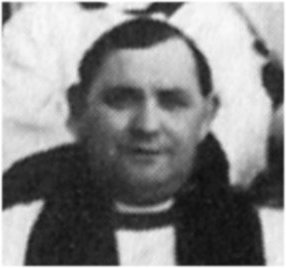 I have heard many rumours about the death of Rev Cullen since I have been involved with the archive. Today I have been fortunate in finding a newspaper report relating to the inquest into his death in 1956. No, he did not hang himself in the church as many would have you believe.
It is clear from the report that he was, at that time, a very troubled man. Whether it was his conscience that troubled him or as I suspect a vendetta against him we will probably never know. We all know how these stories can get out of hand.
~~~~~~~~~~~~~~~~~~~~~~~~~~~~~~~
Newspaper report November 1956
A verdict that the Rev. David Gilbert Cullen, 41 year-old Vicar of Canvey Island, Essex, had killed himself while the balance of his mind was disturbed was recorded at the inquest at Rochford, Essex, today.
Mr. Cullen was found dead in the gas-filled vestry of his Parish Church of St Katharine's last Saturday.
Mr John Cullen a Journalist, of Lancaster Terrace. Merthyr Tydfll (Glamorgan) brother of the vicar, said that the vicar's marriage was annulled in the latter part of last year.
He lived at the vicarage with his mother who was in very poor health
Mr Cullen told the Coroner, Dr. A Penton that he last saw his brother alive some two weeks ago he was perfectly well and was in no financial difficulty.
On Friday, October 26, he received a telephone call from a relative saying that his brother wished him to go to Canvey immediately. He arrived at the vicarage at 8 p.m. the following day. "I went to the church, and then into the vestry and found him there.'
The vicar was lying on the floor with a blanket on him and there was a smell of gas.
Mr Robert William Culley, (28), painter, of Canvey Island, said that on October 26, he called on the vicar who asked him in to the study. " He asked me if I would do a favour for him and would I mind witnessing a will.
"I said I certainly wouldn't mind and he put the will down with the top folded over and I signed. We shook hands and I left. He seemed quite normal'
Det-Con Kay, of Canvey, said that on the evening of October 26 he interviewed the Vicar "in connexion with some investigations we had been making" The interview lasted from 8-45 to 9-15.
The Coroner stated: "A letter has been found which I do not intend to read and it indicates that Mr Cullen had made up his mind about this matter and the least said about it all the better  in my opinion."
"I therefore record a verdict that he died of asphyxia due to carbon monoxide poisoning self administered, and that he killed himself while the balance of his mind was disturbed. "
The Coroner referred to the Vicars death as "this very sorry affair."