Daily Herald May 1956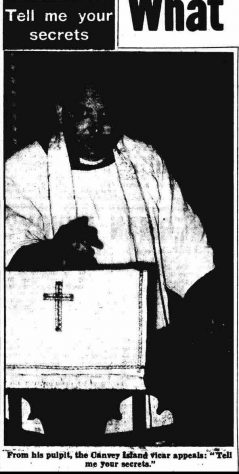 A VICAR appealed from his pulpit yesterday for people on "the island of fear" to come forward and tell all they know about the death of the houseboat twins.
The vicar, portly, outspoken 41-year-old Rev. David Cullen, told his congregation at Canvey Island parish church in Essex:
"As after all such incidents, there are many rumours, most of which are known to the police. But this parish is being called by some newspapers an ' Island of fear.' and because of this I am appealing to you and every person who is living here to help the police to solve this mystery and make good the name of Canvey Island.
'Tell me'
"How can it be done? Well, the obvious way is to go to the police.
"But if anyone is unwilling in the first instance to do this because of reasons not connected with the fire, let him or her come to me and I will promise every possible help so that no longer will this Island have any fear and hide its secrets."
Police inquiries into the house­boat fire at Benfleet, in which three-year-old twins Colin and Reginald Wright died, have come to a standstill because their calls for information have received so little response.
But the people of the Island — branded the isle of sin and silence —are determined to clear its name.
The council chairman, Colonel Horace Fielder, told me last night: "We are taking legal advice to stop these malicious and ill-founded accusations. We are a decent, clean-living community."
The 14,000 Islanders are so angry that even the vicar is being called on to make' a public apology for speaking of 'irregular associa­tions' among married people on the Isle.
And they were upset by his pulpit appeal. Mr. Arthur Bishop, people's warden at the church, said: "It was an insult to a lot of decent hard-working people."
But the vicar—who was equally outspoken a month ago against "evil tongue" gossip about a mother whose baby died of poisoning said: "I stand by what I said. There are many irregular associa­tions here. The police admit it themselves."
Later he said: "My telephone bell has been ringing continuously since my appeal. But people who have information to give must come and see me personally."