Benjamin Walter Ablard 1866-1927
Buried in St Katherine's Churchyard
In St Katherine's Churchyard is one of many unmarked graves that might turn out quite interesting. There was once an urn on the grave but that has long since gone. The grave is that of Benjamin Walter Ablard 1866-1927. According to our local parish registers his middle name is Walter and he was buried on the 11th February 1927, he died in Rochford House (Rochford Hospital).
Searching all records available to me the only one that stood out was an American by the name of Benjamin Walker Ablard born 1864 in Byron, Fond Du Lac, Wisconsin.  Son of William Ablard and Abi Walker.  Both William and Abi were originally from Lincolnshire, England. The couple married in 1856 arriving in the USA in 1857. Benjamin lived all his life around Byron, Fond Du Lac, Wisconsin. His first wife died in 1899 and he remarried in April of 1925 to Mabel Sinton who was from London. Benjamin with his new wife came back to the UK later that year to visit his mother-in-law who we think lived in Highams Park, London.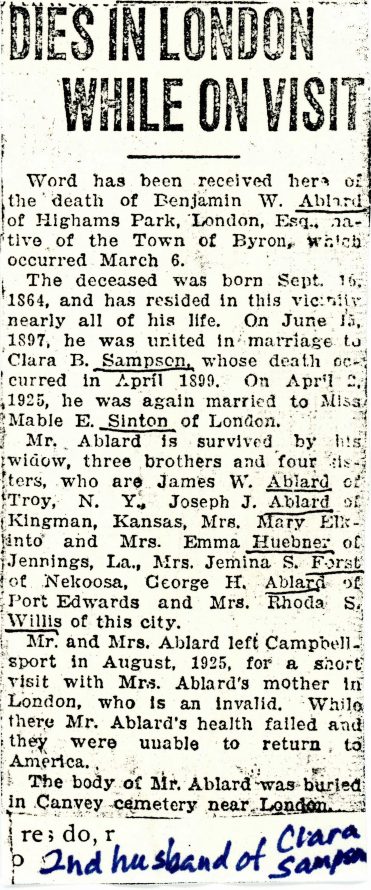 Now, are these two people one and the same? The newspaper clipping would suggest they are although the dates do not quite tally. Benjamin Walker Ablard was said to have died on the 6th March 1927 our Benjamin was buried on the 11th February. But I would suggest, without confirmation, that this is purely a mistake and he died on the 6th February. I can confirm I have a copy of the parish register and the burial is definitely the 11th February.  The difference in name could simply be pronunciation, Walter can easily be Walker. The one thing that confirms it is the same person is, if you look at the bottom of the clipping, it states that Benjamin Walker Ablard was buried in Canvey Cemetery.
How he came to be in Rochford Hospital or buried in St Katherine's I have no idea. Did the couple have relatives here? We would love to find out more so please let us know if you can help.